Career First Programme – My Experience
Ben Doyle
13/08/2018
"The Career First Programme is the perfect chance for students to get an insight into the work of a corporate law firm, gain invaluable advice and tips from all the friendly team at Matheson and help set goals for yourself in the future, in your pursuit of one day becoming a solicitor"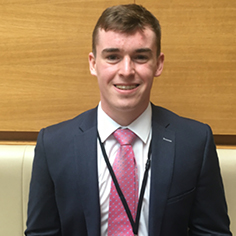 The Career First Programme at Matheson is an experience that has really helped me to better understand the inner operations of an international corporate law firm, help improve my skills in legal research and gain invaluable advice and tips on the path to becoming a solicitor.
The two-day workshop in April was a very helpful start to the programme. We learned about the steps we need to take to become a trainee, the values of Matheson and how the firm aspires to new heights in its success. Through chatting with the trainees, it was clear to see that they really wanted to teach us more about legal practice and what it is like to work in such a large and successful corporate law firm.
The recent week long placement this summer was a great opportunity to discover first-hand what goes on behind the doors of Matheson on a daily basis. I was placed in Banking and Capital Markets, which taught me a lot about how the team not only offer excellent legal consultation, but they also have extensive commercial awareness and understanding which prevails in its service to clients. Along with the guidance of my trainee buddy, I was given tasks such as analysing legal documents, researching updates in legislation and drafting documents and letters to clients.