London Trainee Blog
Chelsey O'Doherty
18/07/2018
I am a trainee in Matheson's London office. I joined the firm in July 2013 as a University placement student and completed a number of pre-trainee rotations in the firm before commencing my training contract in April 2017. In March this year, I was given the opportunity to complete my second trainee rotation in the London office! Having always loved the city, I couldn't wait to come over here and get started.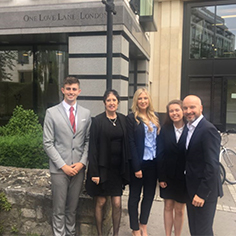 I am currently half way through my six month rotation and have really enjoyed the experience so far. The work is extremely varied, by virtue of there being lawyers from Corporate, Banking and Tax based in London. During my time here, I have been involved in a number of interesting transactions and gained extensive experience in corporate governance, M&A transactions, research and client care.
One of the most interesting aspects of completing a rotation in Matheson's London office is the high level of exposure to clients and other contacts in the industry. I have attended a number of events in London which include a General Counsel Summit, the IFLR Women in Business Forum, the FT Brexit and Beyond Summit, the British Irish Chamber of Commerce Summer Event and I also took part in the 10km London Legal Walk, which raised funds for charity.
Over the last couple of weeks I have attended both the Euromoney Women in Business Law Awards and the ITR European Tax Awards in London, both of which were extremely fun and successful nights for the firm, with Matheson partners winning two Women in Business Law Awards and also the award for Irish Transfer Pricing Firm of the Year at the Tax Awards.
Overall, being a trainee in Matheson's London office has been an invaluable learning experience so far and I can't wait to see what the rest of my rotation brings!