My London Experience
Rachael Mullally
12/07/2018
I was lucky enough to be one of two interns who were selected to spend a week in the firm's London office. Over the course of the week I really came to understand just how international a firm Matheson is in terms of its client base. The office is located in the heart of London's legal district – something which I came to understand hugely differentiates Matheson in terms of its capacity to cater to the legal needs of international clients doing business both in and from Ireland. Matheson's reputation as an international Irish law firm is no surprise, and the London office plays a key role in fostering good client relationships with international clients.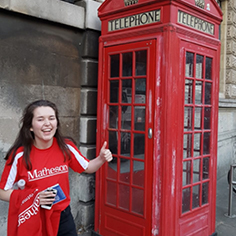 Spending a week in London added a huge amount to the internship for me as I was exposed to more than one group in the firm. For example, during my time in the Dublin office I worked within the Asset Management department, while over the course of my week in London I completed legal research for the Corporate and Tax groups. This was an aspect of the week which I particularly appreciated as it allowed me to understand the main roles of those groups and see how they worked in practice.
To say that the London team were incredibly welcoming would be an understatement. Everyone made a real effort to make us feel like we were part of the team for the week which we really appreciated. I felt incredibly comfortable asking questions and learned exactly what life in the London office is like.
I would like to say a huge thank you to Matheson for giving me this opportunity – I honestly could not have had a more enjoyable week.