This Spring, the legislative programme progresses many initiatives commenced in 2021, with some notable additions.
A post-COVID domestic focus on employment legislation
These initiatives include the Right to Request Remote Working Bill, increased focus on leave entitlements including Sick Leave and leave supporting caring obligations, and on legislation addressing work shortages connected to the pandemic, such as the Employment Permits (Consolidation and Amendment) Bill. International Women's Day on 8 March 2022 saw the Government announce measures to implement the Gender Pay Gap Information Act 2021 reporting obligations, which will affect all employers with over 250 employees. These obligations are described in our Employment group's commentary.
A strong climate action agenda
The government's Climate Action Plan 2021 is driving initiatives in the current legislative programme including the Circular Economy Bill and environmental law related matters including issuing commencement orders for the Maritime Area Planning Act 2021 which will enable long term, sustainable planning of the maritime area affecting, among other matters, Ireland's offshore renewable energy resourcing. Moving on to the alternative energy space we describe and monitor the development of a number of EU Regulations.
Significant developments affecting Corporate Ireland
Of specific relevance to many of our clients are changes in the tax area which are considered in this Horizon Tracker. In relation to financial services, investment funds and capital markets we consider the full range of regulatory proposals both domestically and at EU level. In addition, the Horizon Tracker now includes dedicated commentary on employment law developments as well as advances in data protection and technology regulation.
At the same time we have maintained the traditional key strength of the Matheson Horizon Tracker, namely brief synopses of imminent and proposed legislative and regulatory developments, domestically and at EU level.

Finally, we are conscious of the ongoing situation in Ukraine.
Matheson are taking steps on a pro-bono basis to assist the Irish Refugee Council and the Public Interest Law Alliance with the humanitarian consequences of this crisis. Specific practise areas have briefed and updated clients where compliance with sanctions is required, and we will continue to do so where necessary.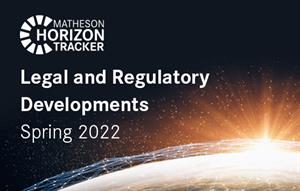 Explore the Legal and Regulatory Horizon
Matheson's expert teams have produced summaries of the legal and regulatory developments at a domestic and european level that will affect Irish businesses. Explore these key themes and trends by browsing the links below.