Employment Law Developments
Ireland's employment law landscape lately has been primarily driven by the need to assist employers and employees steer a course through the pandemic.
Novel measures including wage supports and subsidies, the curtailment of the ability to seek redundancy during periods of lay-off and regularly updated Work Safely Protocols aimed to facilitate an efficient return to the physical workplace in line with public health guidance.
Following the January publication of the Transitional Protocol, coupled with the relaxation of the requirement for staff to work from home unless absolutely essential, the employment law outlook for 2022 is set to focus on the theme of "balance" and the implementation of measures, such as the right to disconnect and request remote working, to support the new hybrid/remote working environment envisaged by the Government's Making Remote Work Strategy.
Other significant developments on the horizon include regulations to implement the Gender Pay Gap Information Act 2021; important updates to employee leave as well as changes to Ireland's whistleblowing regime.
Key Themes in Employment Law
The end of the office? How to roll out hybrid working arrangements a top priority
The General Scheme of the Right to Request Remote Working Bill was published in January but is undergoing pre-legislative scrutiny before enactment.
Significantly, it does not confer an automatic entitlement to work remotely. Rather this draft legislation outlines the technical procedure to be taken when making and assessing a request to work remotely.
On balance, as currently drafted, employers are afforded broad discretion to refuse such requests on the basis of subjective business concerns. A non-exhaustive list of thirteen such grounds of refusal is included in the draft. However, it is anticipated that the extent to which such reasons will be immune from scrutiny may be called into question given the reality that many employees have been successfully working remotely during the pandemic.
As currently drafted there is no facility under which an employee can interrogate the merits of a refusal to such a request. There is no scope for an employer's assessment and final decision to be challenged or overturned by the Workplace Relations Commission (the "WRC"). Rather the WRC may only direct compliance with the employer's procedural obligations e.g. to respond to such a request within 12 weeks of its submission.
Given that the majority of employees are now seeking some form of remote or hybrid working as the norm rather than the exception, employers must be mindful of the need to balance business needs with employee requests to ensure the recruitment and retention of staff. It is expected that a forthcoming Code of Practice will provide greater guidance to employers when assessing remote working requests.
Mind the gap: mandatory gender pay gap reporting is here
After a number of false starts, the long awaited Gender Pay Gap Information Act was enacted in July 2021. However, regulations to provide more granular detail on the precise content and effect of these mandatory reporting obligations remains outstanding. We expect these regulations to be published in the first half of 2022.
In March 2022 the Minister for Children, Equality, Disability, Integration and Youth announced that these regulations will issue "in the coming weeks". The Minister has advised in scope employers that they will be required to designate a specified "snapshot" date in June 2022 and report the requisite pay and bonus information by December 2022.
Briefly, employers with 250+ employees will be required to publish details of their employees' pay and bonus to illustrate their gender pay hap. This threshold is expected to reduce to 150+ employees within 2 years of the regulations and reduce to 50+ employees within the first 3 years.
In scope employers will also be required to publish a narrative alongside their figures detailing, in the employer's opinion, the reasons for such differences and the measures the employer is taking to eliminate or reduce the gap. This statement will be useful to properly contextualise the existence of the gap and clearly set out the employer's roadmap to narrow that gap.
Although there is no provision within the Act for fines or compensation in connection with an employer's disregard of the reporting obligations, the scope for adverse publicity and the potential impact on an employer's ability to recruit and retain key talent will be key drivers to support compliance. Further, as this will be an ongoing requirement, the first year's figures will serve as a yardstick against which an employer will effectively be benchmarked in subsequent years. Now that the government has given the outstanding regulations the "green light", prudent employers are advised to take the above steps to prepare, in particular against the backdrop of the short lead-in time for the first year of reporting.
Statutory sick pay entitlements on the horizon for the first time in Ireland
Unlike most of our European counterparts, there is currently no legal entitlement to sick pay under Irish law and it is for an employer to decide on the level of sick pay (if any) it provides to its staff.
However, the draft Sick Leave Bill published in November 2021 proposes to provide an entitlement to a minimum period of paid sick leave for all employees commencing with three days per year once the employee has completed 13 weeks' service.
The draft Bill is currently undergoing pre-legislative scrutiny but it is anticipated that this entitlement will increase to five days payable in 2023, seven days payable in 2024 and up to 10 days payable by 2025. Significantly, it is proposed that the rate of sick pay will be capped so that an employer will only be obliged to pay up to 70% of wages, subject to a cap of €110/day.
Further enhancements to Family Leave on the Way
The Family Leave and Miscellaneous Provisions Act 2021, which came into force in April 2021, increased employees' entitlement to parent's leave from two to five weeks' non-transferable leave in respect of babies born or children adopted after 1 November 2019 to be taken in the first two years after the birth or adoptive placement.
Further, adoptive parents will have greater flexibility to decide which parent will avail of adoptive leave and benefit, with paternity leave and benefit available to the parent not availing of adoptive leave.
However, it was announced in Budget 2022, that parent's leave would increase from five to seven weeks for each parent, with such changes due to take effect from July 2022. This would then bring Ireland in line with the requirements of the EU's Work Life Balance Directive which requires all Member States to implement two months paid, non-transferable parent's leave by August 2022. We are however awaiting legislation before those changes will come into effect.
It is also noteworthy that publication of the Maternity Protection (Amendment) Bill is anticipated. This Bill proposes to extend the period during which breastfeeding breaks can be taken from 26 weeks to two years.
Significant Updates to Ireland's Whistleblower Regime
The Protected Disclosures (Amendment) Bill 2022 was published in February and is set to finally transpose the EU's Whistleblower Protection Directive by amending the Protected Disclosures Act of 2014, albeit the transposition date has now long since passed.
At a high level, the bill will establish formal channels and procedures for employees to make protected disclosures in organisations with 50 or more employees.
The bill will also:
widen the scope of the categories of workers that are protected under the regime;
expand the definition of penalisation to cover more covert acts, such as negative performance appraisals or withholding promotions;
expand the breaches that employees may make protected disclosures in respect of; and
create additional offences under the regime.
The bill generally follows the general scheme that was published by the government last Summer, however, the government has deviated from this to further clarify that interpersonal grievances solely affecting an employee will not be considered a protected disclosure, following the high profile decision of the Supreme Court in
Baranya v Rosderra Irish Meats Group Ltd
. While stopping short of limiting protected disclosures to those made in the public interest, as suggested by the Supreme Court, this amendment is a welcome development and will ensure that individual grievances are dealt with through appropriate internal company procedures.
Explore the Horizon Tracker
"This new law will give employers and workers legal clarity on remote working, which became the default for many during the pandemic"
Leo Varadkar TD, Tánaiste and Minister for Enterprise, Trade and Employment introducing the Right to Request Remote Working Bill 2021
ESG: Employer Insights on Irish Right to Disconnect Code of Practice
Matheson recently hosted a webinar as part of its Employment Law Masterclass Series, on the Irish Code of Practice on the Right to Disconnect introduced in April.
Title :
ESG: Employer Insights on Irish Right to Disconnect Code of Practice
Filter services i ds :
aca9820d-d1f8-4da1-9d07-0020548ab869;81b57ee6-0903-4b29-80ce-b6d57dbca5e7;bc673abe-73af-4b6e-9f6c-6d11fd51cc7b;
Insight Date :
Jul 23, 2021, 09:43 AM
Matheson recently hosted a webinar as part of its Employment Law Masterclass Series, on the Irish Code of Practice on the Right to Disconnect introduced in April.
During the webinar over 600 participants from a wide range of industry sectors had the opportunity to take part in a survey and answer questions in relation to the right to disconnect generally and the extent to which large employers are already taking such steps.
Download the results at the link below:
We will continue to look at these and other trends as our Employment Law Masterclass Series continues this year.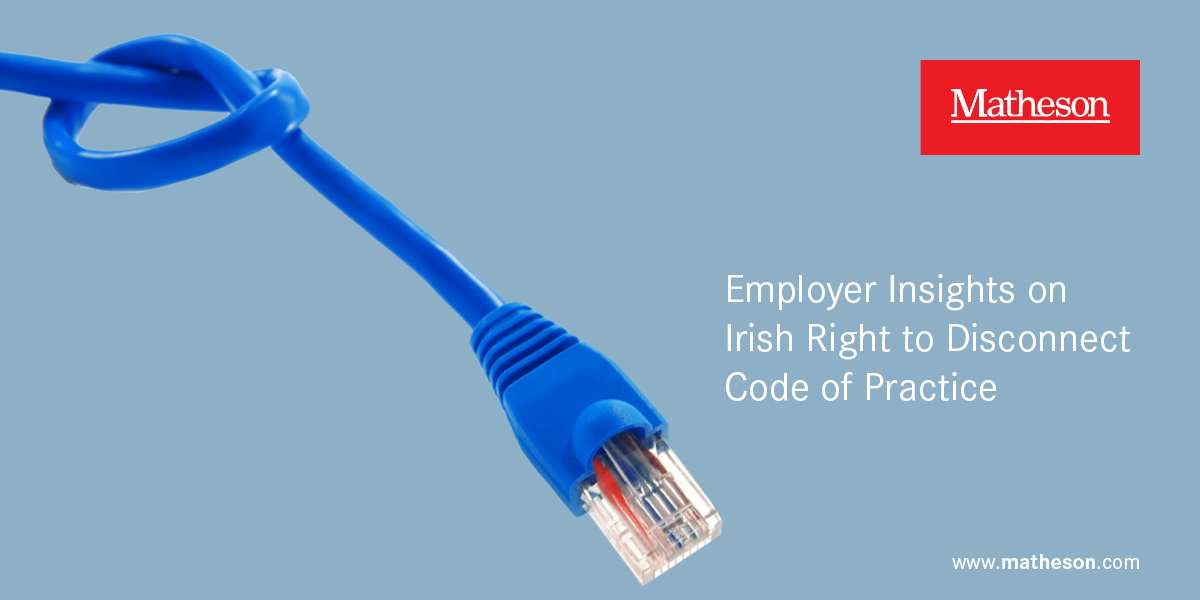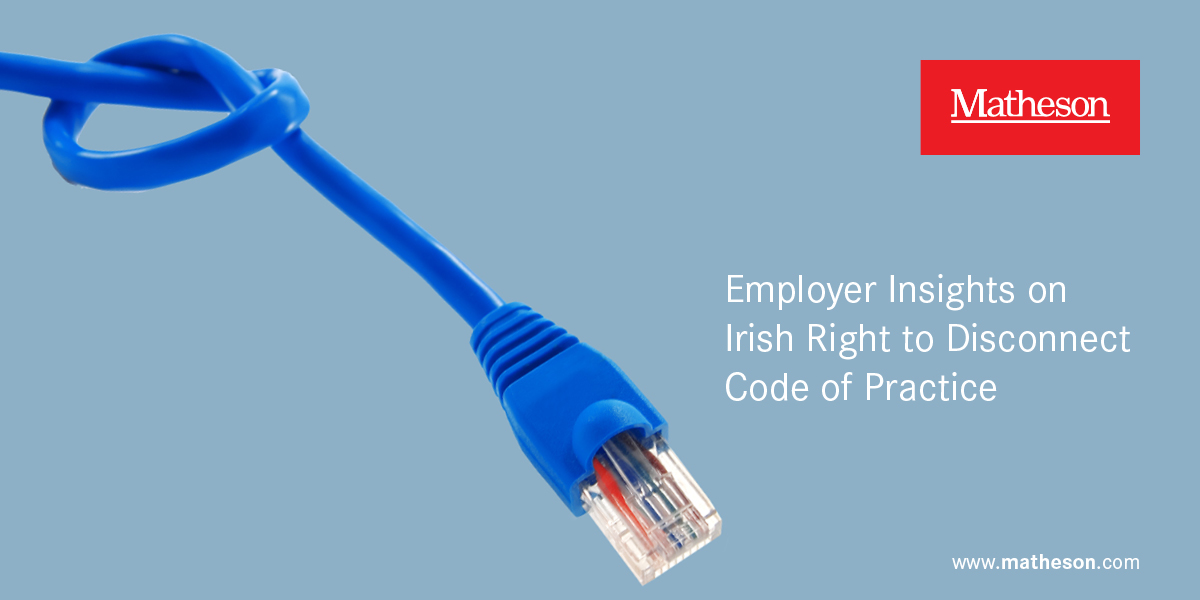 Authors :
Co Authors