Trade mark owners can breathe a sigh of relief as one of the first intellectual property trials to address the hi-tech new art world of non-fungible tokens ("NFT") demonstrates that a trade mark owner can claim infringement over use of a conflicting brand and enforce their rights in the digital world.
On 8 February 2023, a landmark decision has been handed down in New York as a 9 person jury ruled in favour of the French luxury goods company, Hermès, awarding them damages against artist Mason Rothschild in a decision that establishes an important precedent for NFT creators and holders of IP rights. The damages included amounts covering profits and resale commissions and damages for cybersquatting. (Hermès International, et al. v. Mason Rothschild, 1:22-cv-00384 (SDNY))[2]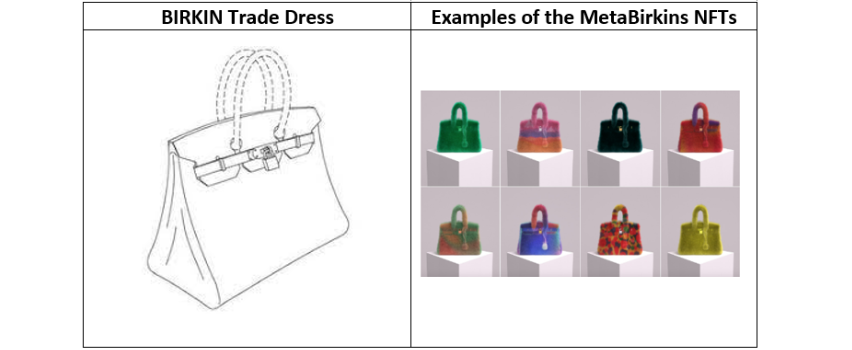 [Photo from Complaint filed by Hermѐs International in Hermès International, et al. v. Mason Rothschild (1:22-cv-00384-JSR)[1]]
Background
The case came to court as Mason Rothschild an artist created and sold a digital art piece collection referred to as "MetaBirkins", which depicted digital images of the famous Hermès 'Birkin' handbag covered in colourful fur instead of leather on 100 NFTs (priced at $450 each and with a royalty on downstream sales).
Hermès sued for infringement of its trade mark rights in the word BIRKIN, brand dilution of the 'Birkin' and 'Hermès marks in that consumers may be confused into buying virtual goods not affiliated with the Hermès brand and for a violation of cybersquatting as Hermès were planning to launch their own NFTs which have already proved lucrative to other fashion houses.
The case scrutinized the nature of digital assets sold on the blockchain (meaning no physical version of this item exists) and whether NFTs are strictly commodities or art shielded by the First Amendment to the U.S. Constitution.[3]
Rothschild pleaded a First Amendment defence of freedom of artistic expression and free speech principles as set forth in the US case of Rogers v Grimaldi[4], which claims that you cannot hold someone liable for infringement unless their work is artistically irrelevant or explicitly misleading. In this case it was argued that the NFTs are works of art and were designed to allege animal mistreatment with regards to the production of leather goods within the fashion industry.
Rothschild's defence team compared their client's work to make and sell art depicting fanciful fur-covered Birkin bags to that of pop artist Andy Warhol, who made and sold art depicted Campbell's soup cans and Coca-Cola bottles "in stylised but plainly recognisable form."[5]
But Hermès argued that Rothschild was engaged in plain and simple trademark infringement under the pretext of making art[6] and the jury agreed determining that MetaBirkins were more similar to commodities which are protected by trade mark laws than to artworks where appropriation is protected, and that Rothschild was a tech-opportunist, his actions amounting to commercial free-riding on Hermès brand and less about free speech.
This is distinct from the case brought in 2017 by AM General LLC against Activision, video game publisher of the franchise 'Call of Duty', where the depiction of the Humvee military vehicle in the game met the requirements of the test set out in Rogers v Grimaldi. The test applied is to first determine if the use of the trade mark is "artistically relevant to the defendant's work" and if such use is "explicitly misleading". In short, the US court ruled in the earlier case that the goal was to develop a video game that realistically simulated modern warfare and the use of trade marks had artistic value[7].
Key Takeaways:
What is the impact of this decision on Brands?

With limited case law in Ireland, this US decision provides persuasive authority in clarifying the scope of registered trade mark rights for 'real life' goods against potential infringement through digital products (such as digital images associated with NFTs)[8]. It is likely to influence courts elsewhere in the world.

The decision will provide some reassurance to trade mark owners that they can prevent third parties from unauthorised use of their trade marks in the virtual world. That said, owners may need to consider enforcing their rights against more than the artists but also NFT marketplaces (like Hermès initially did), minters and / or purchasers.

What is the impact of this decision on Artists?

The decision was not actually concerned with the art. It looked at how Rothschild had branded the NFTs and the perception this created for the consumer by firstly using the name "MetaBirkin" and secondly using a domain name of the same name to sell goods.

The case acts as a warning to artists and other parties that they should ensure that they do not use other brands trade marks in a way that is likely to cause confusion in the eyes of a consumer and they should ensure that consumers do not think their works are affiliated with a brand's trade mark.

What next?
Rothschild is expected to appeal the decision. Similar litigation is expected as brand owners continue to protect their trade marks in the ever evolving Web3 and Metaverse virtual worlds.
Matheson will continue to monitor developments in this space. If you would like to discuss any of the legal issues arising out of this publication, please get in touch with Rory O'Keeffe (Partner) or Tonia Buckey (Senior Associate) or a member of our Technology and Innovation Group.