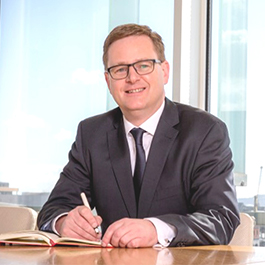 "Matheson's mission statement is to make a meaningful difference to our clients, to our communities and to our colleagues. Fulfilling that mission statement requires us to continuously deliver excellent services, engage and develop the best legal and business talent, and give back to the communities in which we operate.
The Matheson Impactful Business Programme is designed to ensure that we can enhance the impact we make by more closely aligning and integrating our existing D&I, corporate social responsibility, environmental sustainability, arts and pro bono strategies within one Programme. It will enable us to expand the scope of our existing activities in each of these areas; facilitate more impactful partnerships with clients and other businesses working together in areas of shared interest; and empower and encourage everyone at Matheson to make an even more positive impact in our communities."
Michael Jackson, Managing Partner
What is Impactful Business?
To our colleagues, clients and communities, our Impactful Business Programme should be more than just words. We believe it will deliver tangible results, and will provide meaningful, sustainable and measurable change across the four strategic pillars below. To find out more about our values and our work in each of these areas, please click on the links below.
Pro bono is a fundamental element of our impactful business programme vision to deliver and support meaningful, sustainable and measurable change across our community of colleagues, clients and society. As a founding signatory of Pro Bono Pledge Ireland, we are committed to promoting access to justice by providing free legal assistance to those in need. Learn more about our ongoing pro bono initiatives here.

Latest Updates
Positively Impacting Our Communities
Matheson's values and our Impactful Business Programme's core pillars show the commitment that we make to our community of clients, colleagues and society.
Our colleagues are central to everything that we do. Their skills, values and energy inform our Impactful Business Programme. We are committed to fostering a diverse and inclusive workplace where all of our colleagues and their contributions and perspectives are valued and respected.
Our clients are at the heart of how we work. We work collaboratively across all areas, reinforcing a client-first ethos among our people. We pride ourselves on our record of providing a top quality service to our clients, by anticipating their needs and delivering the best possible results to them.
Our society inspires us to make a real difference. We strive to make an impact that matters in our local areas by providing access to meaningful educational programmes, work readiness skills, finance and establishing initiatives to help the greater good.