Irish law firms are increasing their commitment to promote the rule of law and access to justice
Matheson's pro bono partner says Irish lawyers are also collaborating with their counterparts across the world promoting the rule of law and access to justice.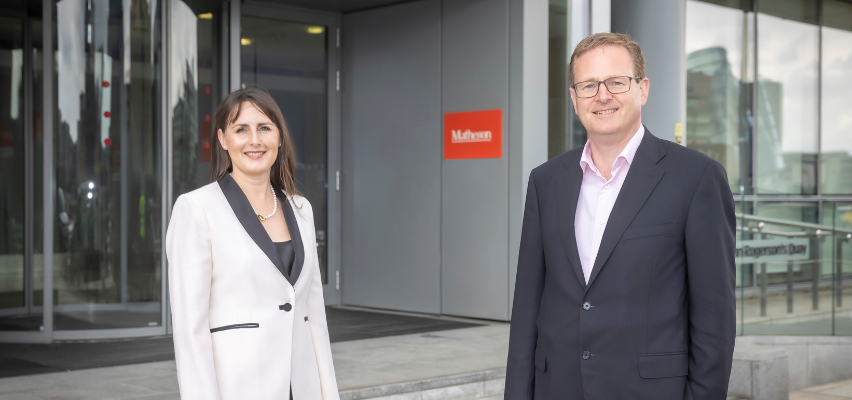 Pictured: Niamh Counihan, pro bono partner with Matheson, and managing partner Michael Jackson.
The provision of free legal services by lawyers and law firms to those who cannot otherwise afford legal representation and to organisations that support such individuals has been a long-standing feature of the Irish legal landscape. And that activity has been increasing, according to Niamh Counihan, Matheson's pro bono partner and director of legal and regulatory affairs.
"In recent years Irish lawyers have doubled down on their efforts to volunteer their time and legal and business skills to support unmet legal needs in their communities and respond to global humanitarian issues," she says.
"Pro bono is gathering momentum in Ireland with many lawyers and law firms increasing their personal and firm commitment to deliver free legal assistance to those who are unable to pay for or access legal help," she adds. "A number of law firms have marked their investment in and support of pro bono by appointing dedicated lawyers with responsibility for further developing their firms' pro bono practices. These practices share the same resources as commercial practices, and pro bono work is treated in the same way as commercial work."
She points out that a large number Irish law firms, barristers, in-house legal counsel and individual solicitors have committed to promoting access to justice and providing free legal assistance to those in need by signing the Pro Bono Pledge Ireland. The number now stands at 100 signatories representing more than 2,500 lawyers.
The pledge is supported by the Public Interest Law Alliance (PILA), a project of FLAC (Free Legal Advice Centres), says Counihan. "It affirms Irish lawyers' commitment to delivering pro bono services, and is the first collaborative effort of its kind in Ireland. The pledge provides a common definition of pro bono and a commitment to an aspirational annual target of 20 pro bono hours per lawyer, and a mechanism to benchmark progress through annual reporting of anonymous pro bono data. The pledge mirrors the approach adopted in other jurisdictions, Australia being the forerunner."
Irish lawyers from large to small law firms, the bar and in-house counsel, and NGOs, have worked together on a number of impact projects to provide legal assistance to larger numbers, enabling a rapid response during times of crisis such as the response Covid-19, the Afghanistan emergency and the war in Ukraine.
"This collaborative approach means that law centres and NGOs can tap into the wider resources and network of commercial lawyers who share their knowledge and skills with each other and achieve an even greater impact for their communities and those requiring legal assistance," she says. "Irish lawyers are also collaborating globally with their counterparts across the world promoting the rule of law and access to justice. Dublin is hosting the global pro bono conference in October 2022, celebrating the 25th anniversary of the founding of PILnet, the global network for public interest law."
PILnet brings together the legal profession as a global public interest law and pro bono network to form effective and durable collaborations with civil society. It acts as a strategic intermediary between the public and private sectors, and pairs NGOs with corporate lawyers to address emerging concerns and systemic issues around the world.
The fourth Pro Bono Week Ireland takes place from November 21st to 25th and coincides with European Pro Bono Week, she says. The week celebrates the role played by volunteer lawyers, in Ireland and all across Europe, in supporting civil society and human rights organisations and promoting access to justice for those in need. It also highlights the need for increased pro bono participation from within the legal profession.
"With the increase in law firms' corporate social responsibility commitments all lawyers have an opportunity to get involved and make a positive impact on the communities in which they live and work," Counihan adds. "The contribution of private lawyers to the pro bono sphere is beneficial for everyone involved. NGOs and community organisations tackling social issues can capitalise on the range of specialised legal expertise commercial lawyers can provide by receiving free legal assistance to help solve critical societal challenges and advance social justice.
"The lawyers are equally rewarded with an opportunity to put their values into action while also developing their professional skills. Getting involved in pro bono work is generally a very rewarding and transformative experience for participating lawyers – the lawyers get as much if not more out of the experience as the pro bono clients. While the national contribution from lawyers providing free legal assistance is to be welcomed, it is not a substitute for a properly funded national legal aid system."
The above article was originally published in the Innovation section of The Irish Times on Thursday, 14 July 2022.