Diversity and Inclusion Conference Promotes Social Mobility through Education

Matheson and Trinity College Dublin D&I event reveals increasingly strong emphasis on Social Mobility in organisational strategies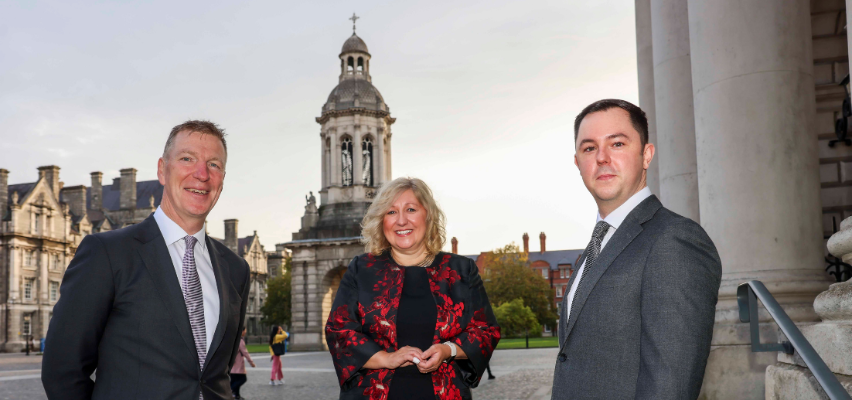 Pictured L-R: Patrick Spicer, Chairperson, Matheson; Professor Lorraine Leeson, Associate Vice Provost for EDI, Trinity College Dublin; and Stuart Kennedy, Partner and D&I Chairperson, Matheson.
The vast majority of organisations actively promote social mobility through a range of programmes and have factored it into their D&I strategies. That was one of the key messages of the 2023 D&I Conference, jointly hosted by Matheson LLP and Trinity College Dublin, today aimed at fostering social mobility through educational initiatives. The annual conference, held at Trinity College Dublin, brought together a cross-section of leaders from a diverse number and range of organisations and sectors to discuss the crucial role of education in promoting social mobility.
A poll conducted during the event showed that 67% of participating organisations have factored social mobility into their D&I strategies. Furthermore, 87% of respondents said that their organisation actively promotes social mobility through educational programmes such as Transition Year (TY) programmes, Third Level access programmes and scholarships. Notwithstanding the increasing focus on mobility and diversity over the past several years, speakers at the conference noted that challenges – such as economic barriers and lack of awareness of opportunities – still remain, and that this increased emphasis needs to continue to achieve greater access and equality of opportunity.
Hosted by Matheson partner Stuart Kennedy, the conference heard from keynote speaker, Barrister-at-Law, Mark McMahon; Professor Lorraine Leeson, Associate Vice Provost for EDI, Trinity College Dublin; and Matheson Chairperson, Patrick Spicer.
The event also featured insightful panel discussions, which centred around two key areas:
Led by Matheson partner Rebecca Ryan, the first panel featured Dr Kevin Marshall, Head of Learning and Skills, Microsoft Ireland; Margaret Gribben, Head of DEI, Irish Life Group; Olive Ojo, North East Inner City Work Experience Project Officer, National College of Ireland; and Dr Kevin Sullivan, Trinity Access Schools Outreach Manager, who explored the social mobility impact of TY programmes, with a specific focus on Delivering Equality of Opportunity in Schools (DEIS) schools.

The second panel focused on improving social mobility through college access programmes and professional networks. Anthony Gaskin, partner at Matheson moderated the session and was joined by Carolan Lennon, Country Leader, Salesforce Ireland; Kate Butler, Inclusion and Diversity Lead, Bank of Ireland; Edima Inyang, President, African Professional Network of Ireland (APNI); and Jen Maguire Donohoe, Trinity Access Student Development Co-Ordinator, Trinity College Dublin.
Patrick Spicer, Chairperson of Matheson, emphasised the significance of organisations supporting social mobility through education, stating:
"Education is key to unlocking opportunities and levelling the playing field for individuals from all backgrounds. At Matheson, we are proud to champion social mobility through our various initiatives, such as our Transition Year programmes, scholarships, and our support of third-level access programmes. By investing in educational opportunities, we aim to help to create a more inclusive legal profession where everyone has access to pursue a career in law and has the chance to thrive."
Professor Lorraine Leeson, Associate Vice Provost for EDI, Trinity College Dublin, said:
"The D&I Conference is a platform for professionals, educators and community leaders to come together to exchange ideas, share best practices, and forge partnerships that will drive positive change. By focusing on the intersection of social mobility and education, today's event aimed to inspire actionable strategies that nurture talent and enable individuals to reach their full potential, regardless of their socio-economic background."
To learn more about Matheson's D&I initiatives, please read our Impactful Business Programme e-brochure.