Family Business
We are the trusted advisor to many families who own businesses. We are aware of the particular challenges facing family businesses on matters of succession planning and corporate governance. We work in conjunction with our corporate and corporate tax colleagues with the relevant parties at different stages of the business' life to advise on both transactional and future planning initiatives.
On understanding the clients' needs, we can develop a suitable strategy to mitigate the capital tax burden of the trading business, all the time with a view to managing efficiently the tax burden arising on an exit event, often in conjunction with their estate plan but whilst always keeping the client's key objective to the fore.
We also advise on planning and restructuring of businesses as may be required to maximise the available reliefs.
As a leading private client department in one of the largest commercial law firms in Ireland, we can provide the client with an integrated tax, legal and commercial solution.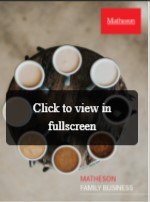 Our Team
Our dedicated team comprises over ten professionals and is led by two partners.