Business After COVID: Where are the EU-UK Negotiations Taking Us?
Date: 07/05/20
Matheson was delighted to take part in The British Irish Chamber of Commerce Webinar on the EU-UK Negotiations on Thursday, 7 May with special guest the Rt Hon Hilary Benn MP, Chair of the House of Commons Committee on the Future Relationship with the European Union.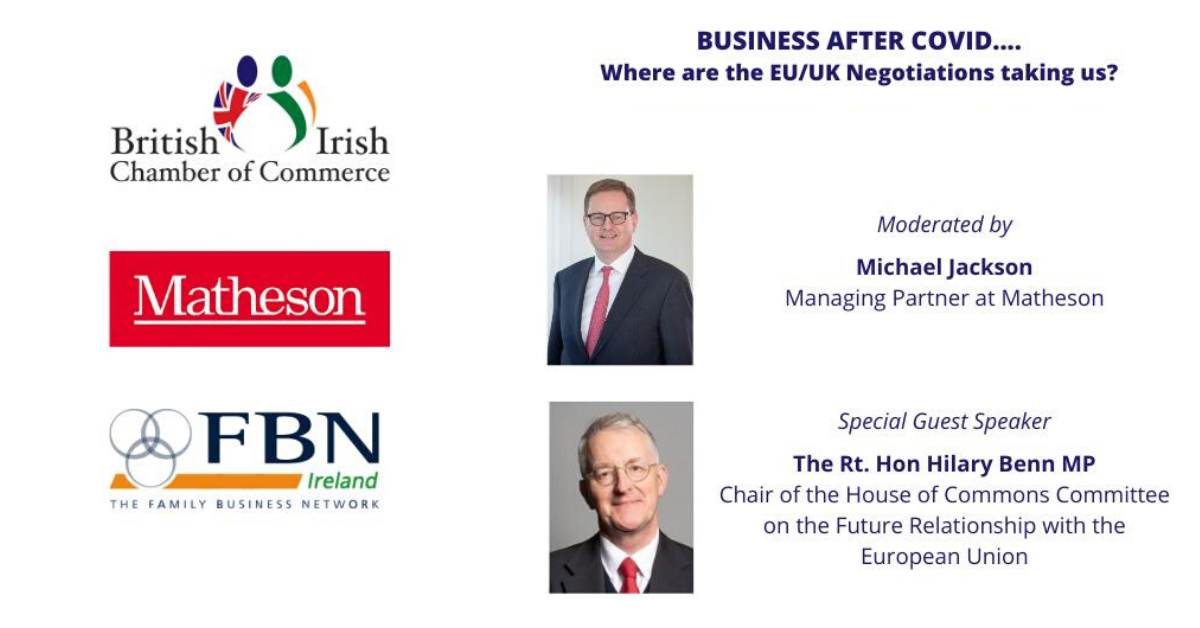 Matheson Managing Partner, Michael Jackson interviewed Mr Benn, with over 200 guests joining the Webinar.
The theme was 'Business After COVID: Where are the EU-UK Negotiations Taking Us?'. In sharing perspectives and insights on the future outlook and progress of the negotiations, the discussion with Mr Benn included a review of:
the current position regarding the trade negotiations and an analysis of the key areas of contention;
the progress to date on the implementation of the Withdrawal Agreement, including the Northern Ireland Protocol;
the ongoing impacts of COVID-19;
the likelihood of an extension to the transition period;
business preparedness for January 2021; and
the importance of the UK-Irish relationship.
The video recording of this Webinar has now been made available. Should you wish to view it, it is available from the Matheson Client Learning Hub, here. If you do not have access to the Matheson Client Learning Hub, please contact Finbarr Geaney, Head of Knowledge Management at Matheson with your request to access our learning resources, here.
Matheson would like to extend its thanks to John McGrane, Paul Lynam, Catherine Coffey, Claire Louise O'Donoghue and all of the team at the BICC.
For further information:
If you would like to know more about Matheson's Brexit Advisory Services, please contact michael.jackson@matheson.com, sharon.daly@matheson.com, your usual Matheson contact or any member of our dedicated Brexit Advisory Group. Our most recent Brexit Blog dated 13 May 2020 is here.