Irish law firm Matheson, in association with Trinity College Dublin (TCD), has announced Niall Brennan as the 2020 winner of the firm's Diversity and Inclusion Scholarship. Niall is a second-year undergraduate law student at TCD.
The Matheson D&I scholarship is in its second year. It is open to second year undergraduate law students in TCD who are on the Higher Education Access Route (HEAR) or the Disability Access Route to Education (DARE) schemes; mature students; or students who face barriers in participating in third level education.
As 2020 winner of the D&I Scholarship, Niall is awarded the following by Matheson:
a bursary of €5,000 for each remaining academic year of his undergraduate degree;
a place on Matheson's internship programme;
an assigned mentor from Matheson to provide support during his university journey; and
access to the firm's library and online learning platform.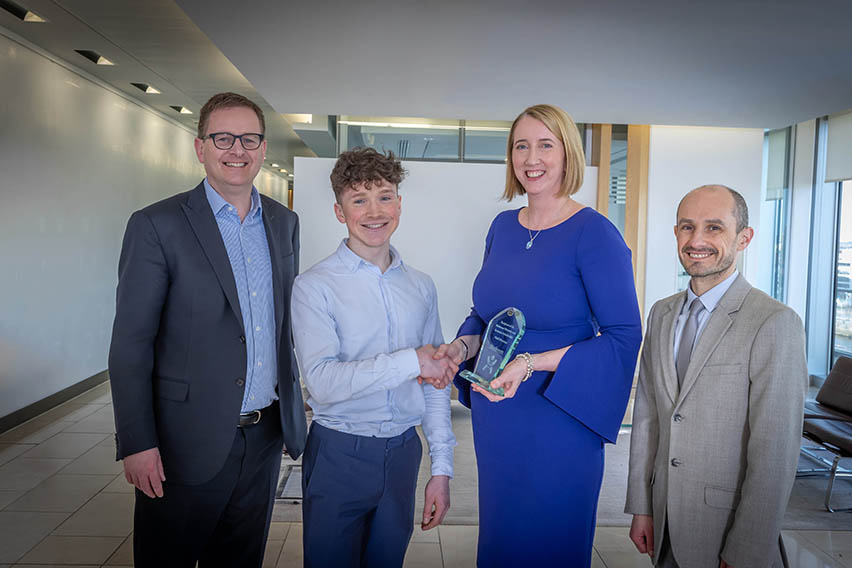 **Please note that the photograph was taken in February 2020 prior to the Government of Ireland COVID-19 restrictions**
Commenting on the scholarship award, Tara Doyle, partner at Matheson stated: "On behalf of Matheson, I would like to congratulate Niall on his achievement. This scholarship, which is part of Matheson's Diversity and Inclusion Commitment, was established in memory of our late partner, and Trinity graduate, Cara O'Hagan. We believe that initiatives such as this, which support students who face barriers in participating in third level legal education, are an important way of ensuring greater accessibility to careers in law and a more diverse and inclusive profession. We look forward to welcoming Niall to the Matheson team when he joins us for his internship and supporting him during his continued studies."
Winner of the 2020 Scholarship, Niall Brennan, said: "I am delighted to be awarded this year's D&I Scholarship by Matheson and TCD. I believe that I will greatly benefit from each element of the scholarship and I sincerely thank Matheson and Trinity College for this unique opportunity. I look forward to joining the Matheson team as part of my internship and continuing with my legal studies with the support of the firm."
Mark Bell, Head of Trinity School of Law, commented: "The Law School at Trinity College is very grateful to Matheson for their generous sponsorship of this scholarship. The Law School is committed to expanding opportunities for access to legal education and to widening participation for all. This scholarship is a wonderful initiative that aids students in making the transition from studying law to working in the legal profession."
Matheson is also proud to be a leading sponsor of the Trinity Access Programme (TAP) 'Pathways to Law' initiative. The Pathways to Law initiative has been developed in partnership with the School of Law in Trinity. It aims to inspire students from under-represented groups who are interested in the law and to give them the confidence, knowledge and tools to maximise their potential.
Every year, Matheson also hosts a dedicated 12 month Career First Programme for first-year undergraduate law students, 50% of the places on which are reserved for students who are on either the HEAR scheme or the DARE scheme in their universities.