Matheson welcomes the news that the Department of Law, Maynooth University, has received the Athena SWAN Bronze Award in recognition of its advancement of gender equality in higher education and research.
Chair of Matheson's Graduate Talent and Development Committee and Partner, Tara Doyle, said:
"We would like to congratulate all at the Law Department at Maynooth University upon the announcement of this prestigious accolade. This award reflects the dedication of the staff and students and the significant work which they have undertaken in creating a culture of gender equality. Since 2013, Matheson has partnered with Maynooth University to deliver a specialised Funds Law course as part of the Maynooth University LLM in International Business Law which I have been delighted to be involved with. This has given me the opportunity to see first-hand the commitment to gender equality at Maynooth - which has been expressed in numerous ways over the years, not least through the Law Department's consistent support and championing of female role models but also through the value which it puts on mentoring, experiential learning and, of course, open dialogue around gender issues. Providing female role models and mentors is essential if we are to bring through diverse talent in legal services, legal education and in the financial services sector."
Managing Partner of Matheson, Michael Jackson, said: "I would like to take this opportunity to congratulate all at the Law Department, Maynooth University, upon their accomplishment of the Athena SWAN Award for advancing gender equality. Earlier this year, Matheson was the first business in Ireland to be awarded the Investors in Diversity Gold Standard from the Irish Centre of Diversity, and we are delighted to see a partner of shared values recognised for their work in progressing gender equality in the legal sector. We look forward to continuing to partner with Maynooth Law Department on future projects in equality, diversity and inclusion."
Professor Michael Doherty, Head of the Department of Law at Maynooth University, said: "The Department of Law has been fortunate to work with Matheson, over many years, in championing gender equality both in higher education and in legal practice. In particular, we are very grateful for the enormous work and support which Tara Doyle, Liz Grace and Brónagh Maher have given to the Funds Law module. They are, and have been, inspirational role models for Maynooth University law students."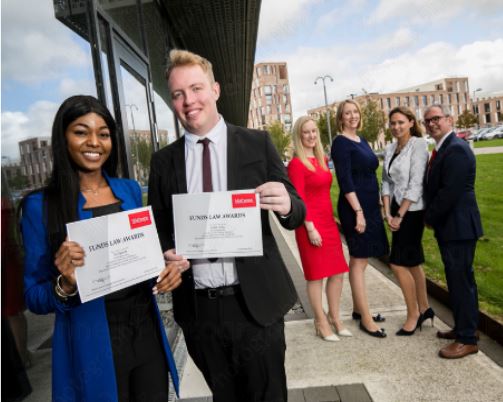 Pictured above (l-r) at the 2019 Matheson Funds Law Awards: Brónagh Maher (Course Coordinator and Professional Support Lawyer, Matheson), Tara Doyle (Partner and Head of Asset Management, Matheson), Tai Ogunde (2019 Matheson Funds Law Intern), Liz Grace (Partner, Matheson) and Michael Doherty (Head of Maynooth University Department of Law).
The Matheson-Maynooth Funds Law collaboration is led by: Tara Doyle, the first female head of an Irish asset management practice and partner at Matheson, who champions and supports the course; Liz Grace, partner at Matheson, who wrote and designed the course; and Brónagh Maher, barrister and professional support lawyer at Matheson, who co-ordinates and lectures on the course. Based on their results and a competitive interview process, participants on the Funds Law course are offered the opportunity to complete a six month internship at Matheson. The partnership between industry and academia therefore directly links education and employment opportunity in a vibrant sector of business in Ireland today.