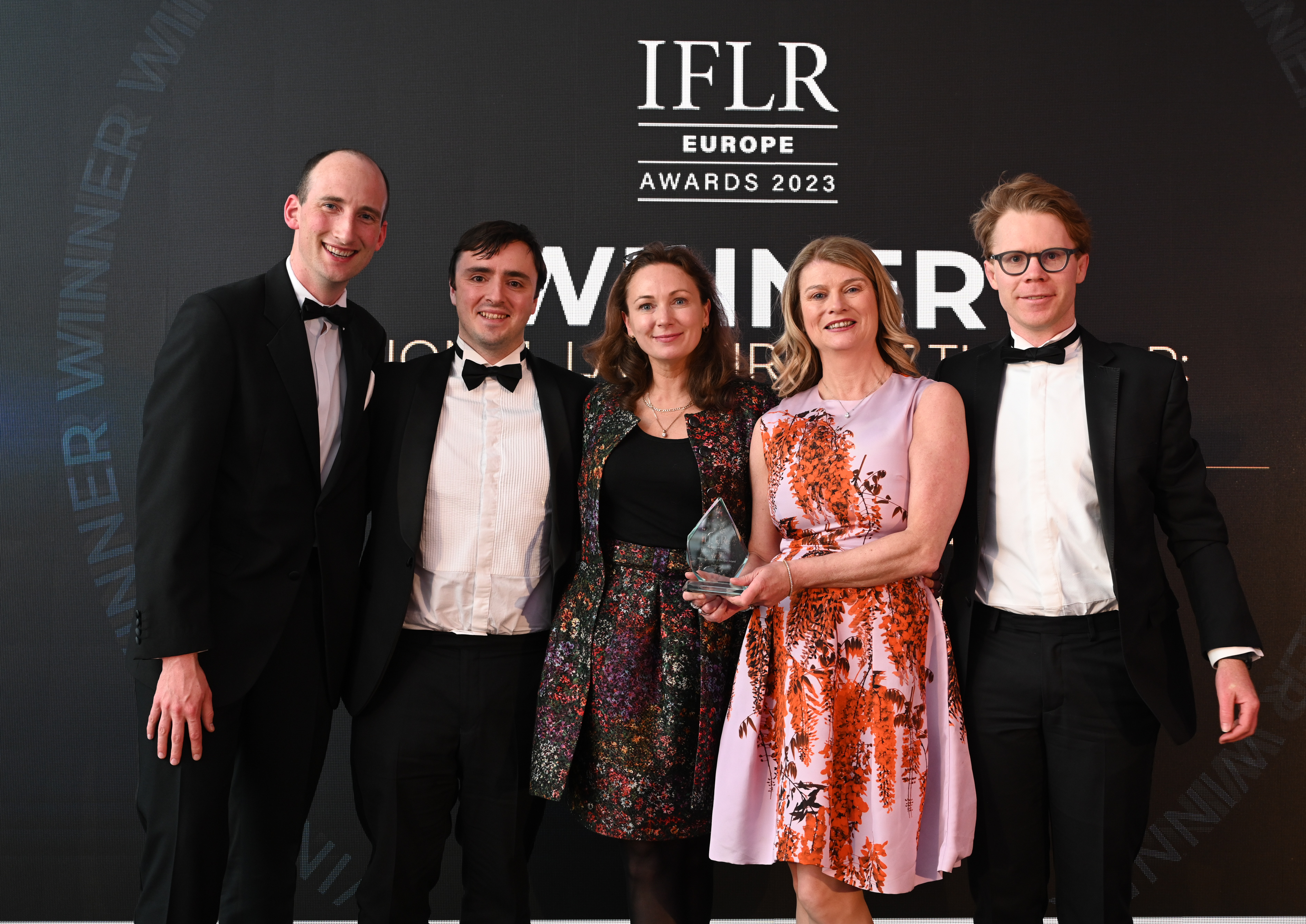 Pictured L-R: Ian O'Mara; Alan Bunbury, Elizabeth Grace, Sharon Daly and Finnbahr Boyle.
Matheson LLP is delighted to have been named Ireland Firm of the Year at last night's IFLR Europe 2023 Awards. The awards, which focus exclusively on legal innovation in cross-border transactions, celebrate each year the region's most innovative cross-border work and those behind it. Matheson also advised on two shortlisted Deals of the Year in the Debt and equity-linked and Restructuring categories.
Sophie Astles, Awards Research Editor, IFLR, said of Matheson that it "edged out competitors for Ireland Firm of the Year. Two deals stood out. The first was the acquisition of National Broadband Ireland by Asterion Industrial Partners. The deal was a first of its kind anywhere, mixing PPP risk allocation and concession agreement mechanics to create a bespoke 'gap-funded' telecoms rollout. Asterion secured permanent ownership with the government paying the difference between the rollout and a commercially viable cost, counter-balanced by a change of control consent process and claw-back provisions to ensure that any super-returns are partially refunded to the public sector counterparty. It offers a unique model. In the second, the firm advised the NAC 29 facilities group in respect of the Nordic Aviation Capital restructure."
Commenting on the award, Michael Jackson, Managing Partner of Matheson said; "This is another wonderful endorsement of our incredibly talented internationally focused teams. The fact that the award is from an independent international panel of judges whose focus is to recognise legal innovation in cross-border transactions during 2022 makes it very special. I want to congratulate all of my colleagues on their hard work and dedication, and to thank our clients for continuing to partner with us on some of the largest and most complex transactions in the market."
Matheson continues to focus on internationally-owned and Irish-owned corporates, financial institutions and state bodies. 2022 was a significant year for Matheson across many of its practice areas, including its Litigation team, which is acting for four of the six aircraft lessors who have brought proceedings in Ireland against insurers seeking cover for aircraft detained in Russia following the invasion of Ukraine, and its Financial Services and Corporate teams, who each benefited from Matheson's continued significant investment in new partner hires and promotions. The firm also saw continued growth in its Energy practice, as well as its Asset Management, Structured Finance and Tax practices. The firm also continues to invest in its people, with a number of senior partner hires into the firm over the past twelve months in the Finance and Capital Markets, Commercial Real Estate, Competition and Regulation and Construction teams. Matheson also continues to focus on developing our internal talent, with fourteen lawyers appointed to partner promotions at the beginning of this year across nine different practice areas.
The IFLR Europe 2023 awards recognise the leading deals, firms and teams across a number of categories, including equity, M&A and securitisation and structured finance. This year has also seen the introduction of some new categories, including a Net-zero Transition Award and Tech Innovation Award, open to both in-house teams and law firms, in addition to a new Digital Finance Award.
For more information about the IFLR Europe 2023 awards, please see the IFLR website here.