Expertise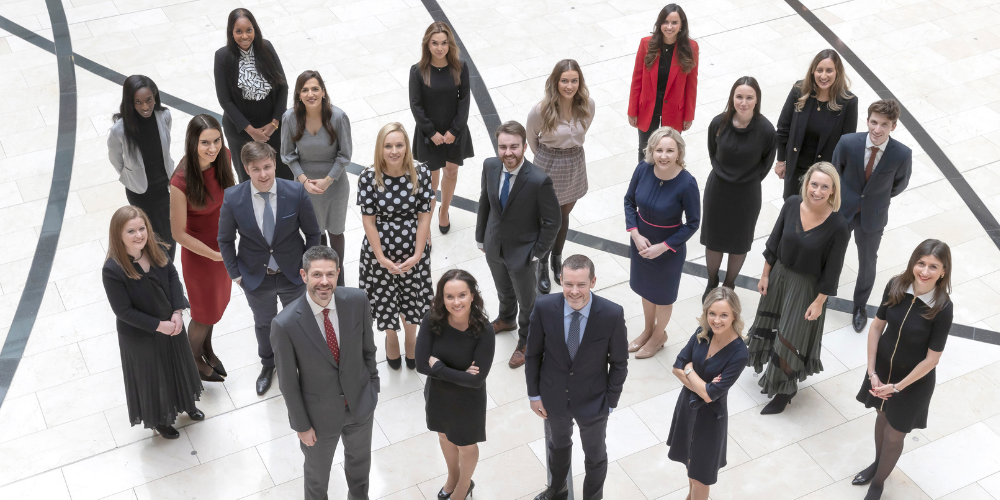 "They are absolutely excellent across the board."
Chambers Europe
Our Employment, Pensions and Benefits Group was established more than twenty years ago in recognition of the increasing complexity and development of the law in the employment, equality and pensions areas, and the demands from clients for specialist advice. We provide legal advice on all aspects of the employment relationship, including pension schemes and employee benefits, with particular expertise in advising employers in the tech, financial services and pharma sectors, amongst others. Our work can be broken down into advisory, employment litigation and transaction planning and support. In many cases, our advisory work overlaps with our litigation work as many of the advisory projects have a litigation backdrop. We advise on all Irish and European legislation relating to or affecting the employment relationship and pensions/benefits entitlements.
Our employment and pensions practice has developed into one of the largest and leading such groups in any law firm in Ireland. It is best known as the first port of call for international employers in the Irish market and for consistently being the first firm to advise on complex new areas of employment law as they emerge, such as the proposed Senior Executive Accountability Regime and on Brexit relocation projects, including re-establishment of existing UK law governed European Works Councils under Irish law. We similarly acted on the first cases to go before the Irish High Court on the Irish Central Bank's fitness and probity regime when introduced in 2013.
We advise on pensions law from a consultative and compliance point of view; we advise trustees and employers on all aspects of Irish pension arrangements both in the private and public sectors, advising on issues arising from the ongoing management and administration of pension arrangements, from establishment to winding up, including the provision of all necessary trust documentation.
We have extensive experience in advising on benefit restructuring and liability management exercises in defined benefit arrangements, to include advising on enhanced transfer value exercises, section 50 applications and pension increase exchange programmes. We also advise on contentious legal issues and have unparalleled experience in pensions litigation and contentious matters between employers and trustees, especially in the context of restructuring and winding up pension schemes.
In recent years, we have developed particular expertise in cross-border transfer work, to include advising on the transfer of Irish pension benefits to cross border IORPs based in Europe, and the establishment of cross border IORPs based in Ireland. We also have considerable experience in advising in relation to compliance of cross border IORPs with Irish social and labour law
We work closely with the firm's Corporate and Commercial Group and have advised on a number of the leading merger and acquisition transactions over the last twenty years. This has included the key employment aspects of a number of multi-billion dollar and euro global transactions.
Matheson's immigration team has extensive experience helping corporate clients navigate the Irish immigration system on a diverse range of immigration applications, including employment permissions, visa applications, and residency registration. Our team acts as a liaison between businesses and Irish immigration authorities, including the Irish Naturalisation and Immigration Service ("INIS"), the Department of Business, Enterprise and Innovation ("DBEI") and the Border Management Unit ("BMU").
We offer eligibility assessments on short- and long-term immigration options to obtain the most appropriate permission for both the business and the relocating employee. We can also help businesses plan strategically for employee mobility and offer immigration training and compliance audits for HR professionals and recruiters.
Our Team
Represented a regulated employer in the first two cases before the Irish High Court on the Central Bank of Ireland's fitness and probity regime when introduced in 2013.
Advised on more Brexit relocation projects than any other Irish firm since 2016, providing key employment and financial services regulatory support on the integration of senior management functions. This includes acting on the largest Brexit relocation project into the Irish market at this time for a global bank, as well as for numerous insurers and asset managers.
Acted on 15 plus projects for international employers moving their UK law European Works Council from UK to Irish law post Brexit, and are seen as the only Irish firm having any practical experience or understanding of this issue. This included advising on the successful defence of a related UK challenge to a global tech client's right to make this switch, which has set the clear precedent for employers to move to Irish law. We have also acted in the successful defence of a similar challenge for a separate US tech client before the German courts, and a challenge to a redundancy programme before the Belgian courts.
Advised a global pharma client on the critical employment aspects of a $50 billion merger and the subsequent integration of two very significant Irish businesses.
Successfully represented a US tech employer on one of the first cases before the Irish WRC under the Irish whistleblowing legislation when first introduced.
Established as the leading firm advising on the Central Bank of Ireland's proposed Senior Executive Accountability Regime, similar to the UK Senior Manager Regime. We have been working with regulated employers on the implications of these proposals for their business since 2018.
Advised a number of US technology clients on preparation for the gender pay gap reporting and strategies to tackle the root cause of their pay gap. We have been involved in this area since 2017.
We have advised leading private purchasers on the purchase of former state assets and the conversion of employees on public sector terms to private sector arrangements, including in the telecoms and energy sectors.
The Group offers an experienced team of specialist lawyers who are well positioned to provide top-tier legal advice on all employment and pension law matters, including the following:
General employment and equality law.
Preparing, drafting and negotiating contracts such as employment contracts (from basic statements of terms and conditions of employment to more complex service agreements), consultancy agreements, agency worker service agreements and severance agreements.
Gender pay gap audits, reporting obligations and gender pay gap analysis and mitigation.
Employment health and safety matters.
European work councils.
Fitness and Probity and Senior Executive Accountability Regime.
Whistleblowing.
Work permits.
Bullying and harassment claims.
Stress at work.
Compliance with working time models.
Internal disciplinary and grievance procedures and investigations.
Redundancy and workforce restructuring.
Post-termination restrictive covenants.
Industrial relations.
Transfer of undertakings (TUPE).
Employment aspects of mergers and acquisitions.
Contentious matters before the courts and tribunals.
Mediation and other dispute resolution mechanisms.
General pensions law.
Reconstruction/merger of pension arrangements.
Establishment of pension schemes.
Revenue approval.
Pension aspects of mergers and acquisitions.
Benefit restructuring and liability management exercises.
Winding up of schemes.
Trusteeship.
Fiduciary responsibilities.
Contentious pensions matters and pensions litigation.
Cross-border transfers.
Regulatory compliance.
"Working with the Matheson Team is a true partnership. The team always seeks to understand the business perspective before providing multiple solutions and options."
Employment: The Legal 500 2023
"The firm is at the cutting edge of employment law in Ireland. A very sophisticated team which provides practical advice."
Employment: The Legal 500 2023
"Firstly it is the size and depth of their employment practice. Secondly is their breadth of experience and understanding of advising large employers in the financial services sector and the added dynamic of dealing with regulatory fitness and probity issues. Matheson delivers everything to clients in a trusted and knowledgeable way. They are able to interpret the regulatory landscape and summarize any employment impact, very helpful in connecting the dots."
Employment: The Legal 500 2023
"Unwavering 5 Star Service from both Partners and all associates. Their responsiveness, adaptability, tailored client-focused service, commerciality and consistent availability make them stand out from competitors."
Employment: The Legal 500 2023
"The firm possesses excellent ability to handle complex matters and provides tailored practical advice for our company."
Pensions: Chambers Europe 2023

"I find them very good and responsive. They have a particular understanding of the tech sector."
Pensions: Chambers Europe 2023

"Matheson has a well-informed and experienced team."
Pensions: Chambers Europe 2023

"The firm possesses excellent ability to handle complex matters and provides tailored practical advice for our company."
Employment: Chambers Europe 2023
"I find them very good and responsive. They have a particular understanding of the tech sector."
Employment: Chambers Europe 2023
"Matheson has a well-informed and experienced team."
Employment: Chambers Europe 2023
"Strength in depth. Professional in approach. Excellent reputation for a high standard of service delivery."
Pension and Employee Benefits: The Legal 500 2022

"Excellent technical knowledge of pension and associated employment law. Responsive. Very affable and easy to deal with."
Pension and Employee Benefits: The Legal 500 2022
"Flexible and deadline focused; have shown willingness to work unsociable hours to meet tight client deadlines. Good communicators."
Pension and Employee Benefits: The Legal 500 2022
"Navigating through the 'grey' when a black and white answer is not enough. Understanding your business and your people."
The Legal 500 2022
"Professional, responsive, understanding of our needs and commercially minded."
The Legal 500 2022
"They are extremely savvy about Irish business trends, which informs all their employment law work."
Chambers Europe 2022

"The practice does an exceptional job in getting their arms around complicated matters and pairing sound legal advice with good business judgment."
The Legal 500 2021
"I have worked with Matheson extensively over recent years, particularly around Brexit-related EWC issues and the transfer of EWCs from the UK to Ireland. I know of no other Irish law firm with their level of expertise in this area, which is greatly appreciated by the many multinational clients we mutually work with. They have excellent strength in depth."
The Legal 500 2021

"This practice is unique because the Matheson team cares, they look after my organisation and our interests, resolving all our issues satisfactorily is paramount to us but also to our Matheson's partners. They make sure they understand our business, the issues we deal with and are always able to provide different alternatives solutions to conflicts we encounter in order to ensure the best outcome for us and those involved."
The Legal 500 2021
"The size and depth of their group is a great strength, they now have five employment partners and 18 members overall, and are still hiring. The other point is their breadth of experience and understanding of advising large employers in the financial services sector and the added dynamic of dealing with the regulatory fitness and probity issues. This is a unique advantage that Matheson delivers to us in a trusted, knowledgeable way."
The Legal 500 2021
"I would describe the lawyers' services as invaluable."
Chambers Europe 2021
"I have trust in the advice that they give me, and they are always at hand to discuss any issues we might be facing."
Chambers Europe 2021
The team are "highly responsive, pragmatic and solutions-focused."
Chambers Europe 2021
The level of professionalism that we have observed with Matheson has been exceptional. Their competence in all areas of Human Resource Law has been so useful. They have advised us through some very difficult situations."
Employment: European Legal 500 2020
"Very approachable and exceptionally easy to work with. They take a sensible, commercial approach to legal issues."
Employment: European Legal 500 2020
"One of the things that has really surprised me in working with Matheson is the strength of their team as a whole. The Matheson team consistently exceeds my expectations. Their advice is well-informed and responsive, but also practical and business-oriented."
Employment: European Legal 500 2020
"We recently engaged Russell Rochford and the Matheson team for an extensive and complex business engagement in Dublin Ireland. This engagement included Irish employment law consultation and application, tax advisory services, risk mitigation, and the unique and impactful role of the Matheson team engaging as the on-site human resource representative for us. Matheson services were highly professional, timely and thorough. This engagement was months in duration and included multiple deliverables to achieve the goals successfully. The project was a success through the partnership of Matheson. The services provided by Matheson were above expectations and come with my highest personal recommendation."
Employment: European Legal 500 2020
Matheson is considered "go-to for anything which could reach the High Court because it has the depth, experience and resource to look after these types of claims".
European Legal 500 2019
Matheson are "very strong in advisory and litigation matters".
European Legal 500 2019

"I would mention the quality of the advice and understanding of the perspective of all the actors in pensions, the holistic approach – not just legal industry perspective, they can bring it all."
Chambers Europe 2019
Matheson's employment practice is "going from strength to strength".
European Legal 500 2019
Matheson is a "law firm of choice for clients who need Irish legal advice. The depth of their international employment law knowledge is far greater than any other firm in the Irish market".
Chambers Europe 2019
Matheson's Employment team are "trusted business advisers for any advisory Irish employment law advice that is needed".
Chambers Europe 2019