Irish services sector outperforming rivals
Relatively low risk of divergence from key legislation post-Brexit
More than 60% of attendees at Matheson event see business opportunities during the Brexit transition period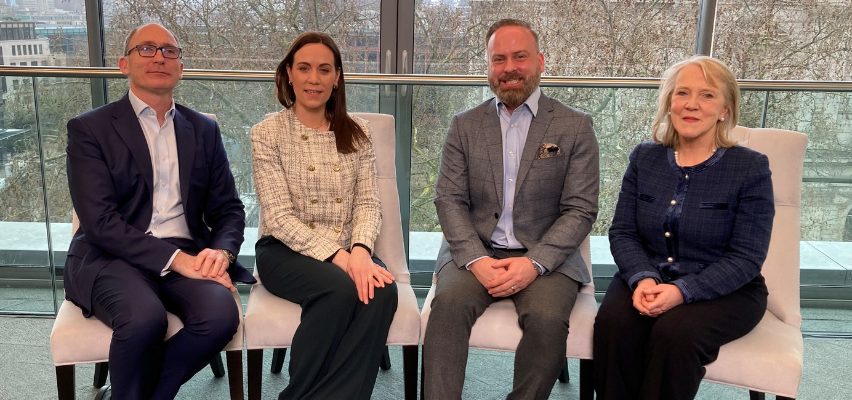 Pictured L-R: Joe Beashel, Karen Reynolds, Rory O'Keeffe and Irene Lynch Fannon
While too early to accurately describe the wider economic or social impact of Brexit, the services sectors in Ireland, the UK and the larger EU economies have been largely unaffected, and have in many cases outperformed their competitors. This was according to Dan O'Brien, chief economist at the Institute for International and European Affairs (IIEA), who was speaking at a Matheson LLP webinar – ' Brexit Revisited: London Calling' – this week.
A part of Matheson's Knowledge Insights Series, the webinar saw Dan O'Brien give the attendees his analysis of the impact of Brexit on the latest economic services data from Ireland, the UK, and a number of EU economies. When asked in an online poll, a majority (60%) of attendees, said that they did see economic opportunities for them or for their business during the Brexit transition period.
This was followed by a panel of experts from the firm's Financial Institutions, Technology & Innovation and Regulatory Investigations teams who discussed the effects of the Retained EU Law (Revocation & Reform) Bill, and the possibility of diverging or converging legal systems, or of an emerging `wait and see' approach from the UK legislature in relation to some EU and internationally-agreed standards.
The UK's economic data is strong…
Focussing on services trade data, Dan O'Brien addressed the negative impact of Brexit first, saying "the biggest hit from Brexit so far has been weaker capital expenditure. UK consumers have also been hit by a weaker pound since late 2015, and goods exports to the EU were hit after Brexit took place. However, Britain retains strengths and a lot of the commentary around its weaknesses is exaggerated."
…and UK services trade with the EU continues to grow…

While the UK is the only major economy in Europe whose GDP hasn't fully returned to pre-referendum levels and it has underperformed since the referendum ("although not catastrophically"), negative Brexit effects are hard to see in its services trade. The UK remains the biggest seller of international services within the larger EU countries, which is a big strength, and 2022 saw a big increase in services exports from the UK.
Of particular interest is the fact that UK's services sales with the EU continue to grow across almost all areas, but particularly in financial services and insurance / pension services.
…while the Ireland / UK trade story continues to outperform…
Bi-lateral trade in services between Ireland and the UK has grown strongly since 2016, and continued to increase strongly during 2022. This has been dominated by strong technology services exports from Ireland to the UK, followed by the areas of business services and financial services. Trade from the UK into Ireland has followed a broadly similar upward trend.
…driven by a strong Irish economy…
Ireland's economic performance during this period since the Brexit referendum in 2016 has been marked out by the performance of two key areas – the pharmaceutical and technology industries. Recent years have seen a doubling of industrial performance, driven by a growing pharma industry, and a tripling in size of tech exports.
The future of some key legislation needs to be settled…

A panel of Matheson partners discussed a number of key pieces of legislation which are currently going through the EU and UK legal systems, and considered the likelihood of divergence between them as they proceed. Any divergence or convergence in those pieces of legislation may have a potential impact on businesses in those jurisdictions.
…driven by the EU Retained Law (Revocation and Reform) Bill…

31 December 2023 is a planned 'sunset date' by which time the UK government will have to decide on the future of almost 4,000 pieces of EU derived legislation.
One example is the EU GDPR, which, said Matheson Technology & Innovation partner, Rory O'Keeffe, will likely fall away, especially given the recent introduction of the UK Data Protection and Digital Information (No.2) Bill. This represents a change from earlier approaches by the UK Government, and is currently going through the legislative process. The aim of the EU Retained Law Bill is to tidy up legislation, reduce the red tape, and make it easier for business to work. "Just over 17% of the outstanding legislation has already been reviewed per the UK Government's dashboard, so while there's a lot of work to do, there's nothing to suggest that it won't happen."

By comparison, the UK is adopting a wait and see approach with AI regulation. "Although they're not moving ahead for now, they are moving forward with their own agenda to make it a best-in-class economy in the AI space with their active involvement in the creation of international AI standards. We'll have to wait and see how it will work out in the end."
…but not much is expected to change…

Matheson partner, Joe Beashel said that where there are established frameworks like the Basel III Reforms (Basel 3.1) and Solvency II up for review and consideration in a post-Brexit regulatory environment, it isn't expected that we will see much change, largely due to the need to align with broader international standards and circumstances which might constrain any divergence. "However, there are newer areas of law such as ESG or technology, where there may be opportunities for changes to be made to certain regulations and legislation", he said. "We'll see some laws being actively changed, but passive changes could also occur."
…especially with a common enforcement regime already in place…

Karen Reynolds, partner in Matheson's Regulatory Investigations team said that there is already a commonality of enforcement trends across the EU, and a central setting of regulatory priorities. "We advise a lot of businesses who operate internationally across borders, and they're already dealing with divergent regulatory systems and legal practices. In the ESG area for example, the US is out ahead in terms of enforcement actions, and in the digital assets world, there are new areas where regulators are now catching up."
"Regulatory practices often come from the same sources within Europe. In some emerging areas we don't have a rule book yet so it's open to regulators to create them as they go along. Policy makers are concerned with stability and will carefully avail of opportunities", she said.

The panel included; Rory O'Keeffe, Technology & Innovation, Joe Beashel and Niamh Mulholland, Financial Institutions, and Karen Reynolds, Regulatory Investigations. The event was opened by the head of Matheson's London office, Sharon Daly, and was moderated by Irene Lynch Fannon, head of Knowledge Management at Matheson.