Awards Coincide with Ten Years of Partnership with Maynooth University
Matheson LLP has awarded one Maynooth University law student a six-month internship and another has won a legal writing prize. The two students were participants in the Funds Law course delivered by Matheson as part of Maynooth University's LLM programme.
Jordan Donoghue from Longford has been awarded a six-month internship in Matheson's Asset Management and Investment Funds department, based on her results and a competitive interview process, while Alanna Kells from Cavan has won a legal writing prize, having received the highest grade for her written assignment forming part of the course assessment.
2023 marks ten years since Matheson partnered with Maynooth University to deliver the first specialised funds law course at third level, creating a valuable link between graduate skills and the demand for talent in a thriving area of Ireland's economy.
Head of Matheson's Asset Management and Investment Funds Department, Tara Doyle, said, "We are delighted to celebrate the tenth anniversary of our collaboration with Maynooth University, which is focused on ensuring that our graduates have the necessary knowledge and mentoring to pursue successful careers in the funds sector and to make a meaningful contribution to ensuring that we preserve and enhance Ireland's reputation as an international leader in financial services and as a leading international fund domicile."
Head of the School of Law and Criminology at Maynooth University, Dr Fergus Ryan, said: "It is wonderful to mark the 10th anniversary of the Funds Law module, a vital collaboration between Matheson and Maynooth University. This module underlines the particular strengths of Law and Criminology at Maynooth - innovation, dynamic industry partnerships, and opportunities for our students. We greatly value the fantastic support we've had from Matheson over many years, particularly in establishing and delivering the Funds Law module. Our enthusiastic appreciation goes out to Matheson, and to Liz, Tara, and Brónagh for their support and huge commitment to the module. Many congratulations to Alanna and Jordan on their great successes!"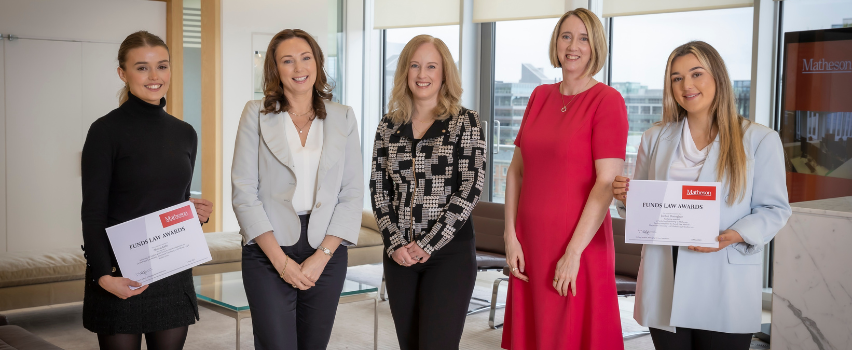 Pictured above are (l-r) Alanna Kells, winner of the legal writing prize; Matheson partner, Liz Grace; Brónagh Maher, visiting lecturer in law at Maynooth University and Head of Matheson's Asset Management Knowledge Team; Head of Matheson's Asset Management and Investment Funds department, Tara Doyle, and; Jordan Donoghue, winner of a six-month internship at Matheson.
The Funds Law Module forms part of the LLM in Global Legal Studies and the LLM in International Business Law offered by Maynooth School of Law and Criminology, and is coordinated and delivered by Matheson's Brónagh Maher, together with partners from the firm's Asset Management and Investment Funds Department.
This innovative course gives students the opportunity to attend lectures in Matheson's offices, offering a unique insight into a top international law firm. Matheson also directly employs the most talented graduates from the course, fast-tracking them into the funds sector, an area in which Ireland has established itself as a global player.
Matheson partner, Liz Grace, said, "The availability of a skilled workforce is a key factor for international companies considering locating in Ireland. Having senior female leaders as part of a diverse pool of experts mentoring and developing our graduates in their transition from the campus to the offices is essential if we are to establish gender diversity as a competitive advantage for the Irish international financial services sector."
Matheson, the first organisation in Ireland, across all sectors, to achieve the Diversity Gold Standard from the Irish Centre for Diversity, prioritises the promotion of diversity in the funds sector, and it is notable that the course is led by three senior females from Matheson - Tara Doyle, head of the Asset Management department who champions and supports the course; partner Liz Grace, who wrote and designed the course; and barrister Brónagh Maher, who coordinates and delivers the course each year. Tara, Liz and Brónagh each offer mentorship and role modelling for those pursuing their legal studies.
In recent years, the funds law course has included a focus on sustainable finance and ESG investing, exploring the opportunities and challenges for Ireland as a centre of excellence for green funds supporting the transition to a net zero economy.
The Irish funds industry employs over 17,000 people in 10 different counties and the value of assets under administration exceeds €5 trillion. Ireland is recognised internationally as a leading funds domicile and is responsible for administering over 40% of the world's alternative investment funds. Recognising the importance of the industry to the Irish economy, the Department of Finance recently published a public consultation on developing the funds sector, which has played a crucial role in the expansion of the international financial services industry in Ireland. This is evidence of the Government's ongoing efforts to drive continuous improvement and competitiveness in international financial services.
Matheson's funds law practice was this year ranked by the Monterey Insight Ireland Fund Report, the leading independent industry survey, as Ireland's leading practice by assets under management for the twelfth year in a row.
View our video celebrating 10 years of partnership with Maynooth University here.
--ends--