Matheson LLP is pleased to announce a number of senior appointments to its Corporate and its Commercial Real Estate teams.
New Co-Heads of Corporate department
Senior Corporate partners, David Fitzgibbon and Darren Maher have been named as co-heads of Matheson's 170-strong Corporate team. The group now consists of 36 partners and over 120 lawyers, and has more Corporate M&A lawyers ranked by Chambers & Partners than any other Irish law firm. In addition to jointly running the group, David Fitzgibbon has also taken on the role of head of Corporate M&A, while Darren Maher has joined the firm's Management Committee.
New Head of Commercial Real Estate
Sally Anne Stone has been appointed as head of Matheson's Commercial Real Estate group. A very experienced and highly-regarded lawyer, she now heads the 40-strong team, which is led by eight partners. Sally Anne also re-joins the firm's Management Committee following her recent return from maternity leave.
The appointments take effect immediately.
Matheson's Managing Partner, Michael Jackson said; "These appointments are a significant marker for Matheson and are just one example of the growth which the firm has created in two important practice areas. Our Corporate team has consistently led the market in recent years, working on some of the most complex and challenging M&A deals in Ireland, and under the leadership of Darren and David I am confident that this will continue. Likewise, our growing Commercial Real Estate team has been central in advising on some of the most high-profile developments in the country and with Sally Anne's proven skills and experience, this critical area will undoubtedly grow."
"I congratulate Darren, David and Sally Anne on their appointments and thank their predecessors Robert and Brian on the completion of highly successful terms. They have collectively made significant contributions to the continued success of two of our core practice areas as we continue to serve our clients here and across our international markets, and I look forward to continuing to work with each of them in their new roles."
The appointments in the Corporate team follow the conclusion of Robert O'Shea's term as Head of Corporate. Under his successful stewardship, 2022 was a significant year for Matheson and for its 170-strong Corporate team, with a continued significant investment in new partner hires and promotions. As a mark of the team's expertise and strong performance, Matheson was ranked as the top Irish law firm for Mergers & Acquisitions (M&A) by deal volume during 2022 by leading publication, Mergermarket.
During Brian Doran's tenure, the Commercial Real Estate team has gone from strength to strength, advising on some of the most important and high profile property transactions in Ireland in recent years.
About Darren Maher
Darren Maher is a partner, head of the Financial Institutions Group and co-head of the Corporate department at Matheson. He advises clients on a wide range of leading domestic and international financial institutions on all aspects of financial services law and regulation including establishment and authorisation, development and distribution of products, compliance, corporate governance and re-organisations including cross-border mergers, schemes of arrangement, portfolio transfers and mergers and acquisitions.
A member of the firm's Brexit Advisory Group, Darren frequently publishes articles in financial services publications and is co-author of the Irish chapter of PLC's Cross-border Insurance and Reinsurance Handbook, Law Business Research's Insurance and Reinsurance Law Review, and a co-contributor to ICLG's Guide to Insurance and Reinsurance. He lectures at the Law Society of Ireland and the Insurance Institute of Ireland.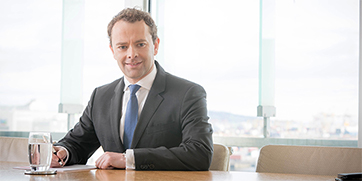 About David Fitzgibbon
David is a partner in, and co-head of, Matheson's Corporate Department, advising private and public companies on corporate and securities laws, including mergers and acquisitions and equity capital markets transactions. He has extensive experience advising international clients on doing business in and from Ireland including advising on acquisitions / disposals, compliance and governance rules, corporate migrations, cross-border mergers, joint ventures and reorganisations. He has worked extensively with listed companies (Euronext Dublin / LSE, NASDAQ and NYSE) providing ongoing strategic and compliance advice on matters of Irish company law and securities regulation. He has a broad-based practice reflecting his considerable experience across the agri-food, financial services, healthcare / life sciences and manufacturing sectors.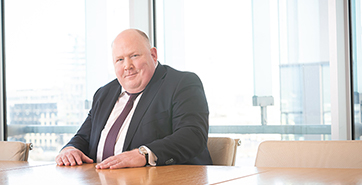 About Sally Anne Stone
Sally Anne is a partner and head of Matheson's Commercial Real Estate Department. She has been involved in many of the landmark transactions across Dublin. She is project lead on several of Dublin's largest development projects advising on site acquisitions, estate set-up, development, letting and sale of commercial and residential / PRS assets. She also advises several Irish and non-Irish institutional investors on the acquisition of large scale assets. Sally Anne also acts for some of Ireland's largest occupiers (both tenants and owner / occupiers) on the development, letting and ongoing management of their office and technical space.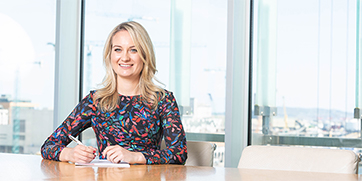 --ends--