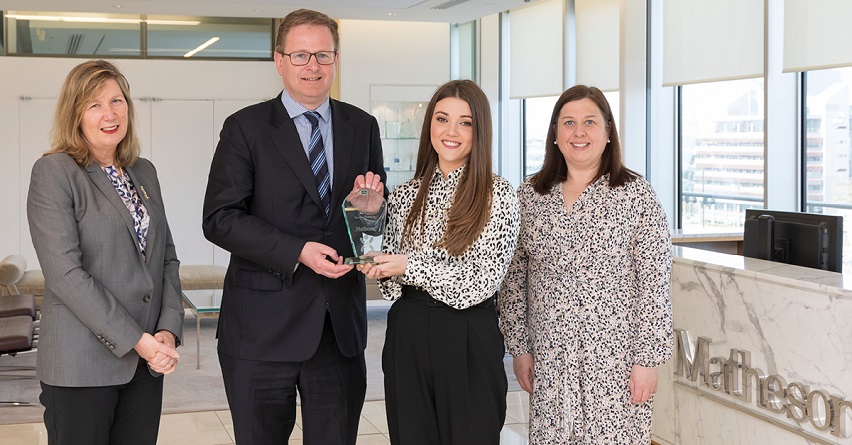 Pictured (L-R) Professor Blanaid Clarke, School of Law, Trinity College Dublin; Michael Jackson, Managing Partner, Matheson; Kariba Dawson, Cara Scholarship recipient; and Nicola White, Director of Learning and Development, Matheson.
Ireland's largest law firm, Matheson, in association with Trinity College Dublin (TCD), has announced second year TCD law student, Kariba Dawson, as the winner of the Cara Scholarship.
Named the Cara Scholarship in honour of late Matheson partner and TCD alumni, Cara O'Hagan, and delivered as part of Matheson's Impactful Business Programme, the scholarship is open to second year undergraduate law students in TCD, including students on the Higher Education Access Route or the Disability Access Route to Education schemes, mature students and students who face barriers in third level education.
As winner of the Cara Scholarship, Kariba is awarded the following by Matheson:
a place on Matheson's Summer Internship Programme in June 2022;
a bursary of €5,000 for each academic year;
an assigned mentor from Matheson to provide support during Kariba's university journey; and
access to Matheson's online library and online learning platform.

Commenting on the scholarship award, Michael Jackson, Managing Partner of Matheson said:
"The Cara Scholarship was established in memory of our late partner, Cara O'Hagan, and honours the lasting impact of Cara's work in promoting greater diversity and inclusion within the legal profession. Promoting an inclusive environment at Matheson, where diversity is valued and people feel they belong and can achieve their full potential, is key to making us a stronger firm and delivering better outcomes for our people and our clients. This scholarship underlines our commitment to proactively address the issues of social mobility and equal opportunity within the legal profession and to support exceptionally talented individuals - giving them access to the best possible opportunities to achieve success. On behalf of Matheson, I would like to congratulate Kariba on this achievement and we look forward to supporting her in her studies."
Winner of the Cara Scholarship, Kariba Dawson, said:
"I am honoured to be chosen as this year's recipient of the Cara Scholarship. Matheson has given me an opportunity to gain valuable experience and knowledge to overcome any obstacles I have faced in the way of my chosen career path. I have had many difficulties in returning to education as a mature student, and I am committed to giving myself and my daughter an incredible life. Matheson has made this process a little bit easier and I am so grateful for that."
Professor Blanaid Clarke, Trinity School of Law, commented:
"D&I Initiatives enrich our legal community. The Law School is very proud of Kariba and grateful to Matheson for demonstrating its commitment to diversity and inclusion in such a meaningful way. In addition to a generous bursary, the Cara Scholarship will allow Kariba to gain important substantive experience in the firm and provide mentorship to assist her in developing the skills required to build a successful career."

The Cara Scholarship is just one of Matheson's many diversity and inclusion initiatives, which are delivered strategically through its Impactful Business Programme and embedded in the firm's values. In 2020, Matheson became the first Irish organisation, across all sectors and industries, to be awarded the Investors in Diversity Gold Standard by the Irish Centre for Diversity and in March 2022, Matheson succeeded in retaining this Gold Standard, remaining the only law firm and one of only five organisations in Ireland to hold this accreditation.
The Scholarship also builds on Matheson's existing graduate and intern programmes, including the Tim Scanlon Corporate Law Bursary, the Summer Internship Programme, and the recently launched Environmental, Social and Governance Virtual Experience Programme. To find out more about Matheson's student programmes, please visit the Student and Graduate Careers hub.