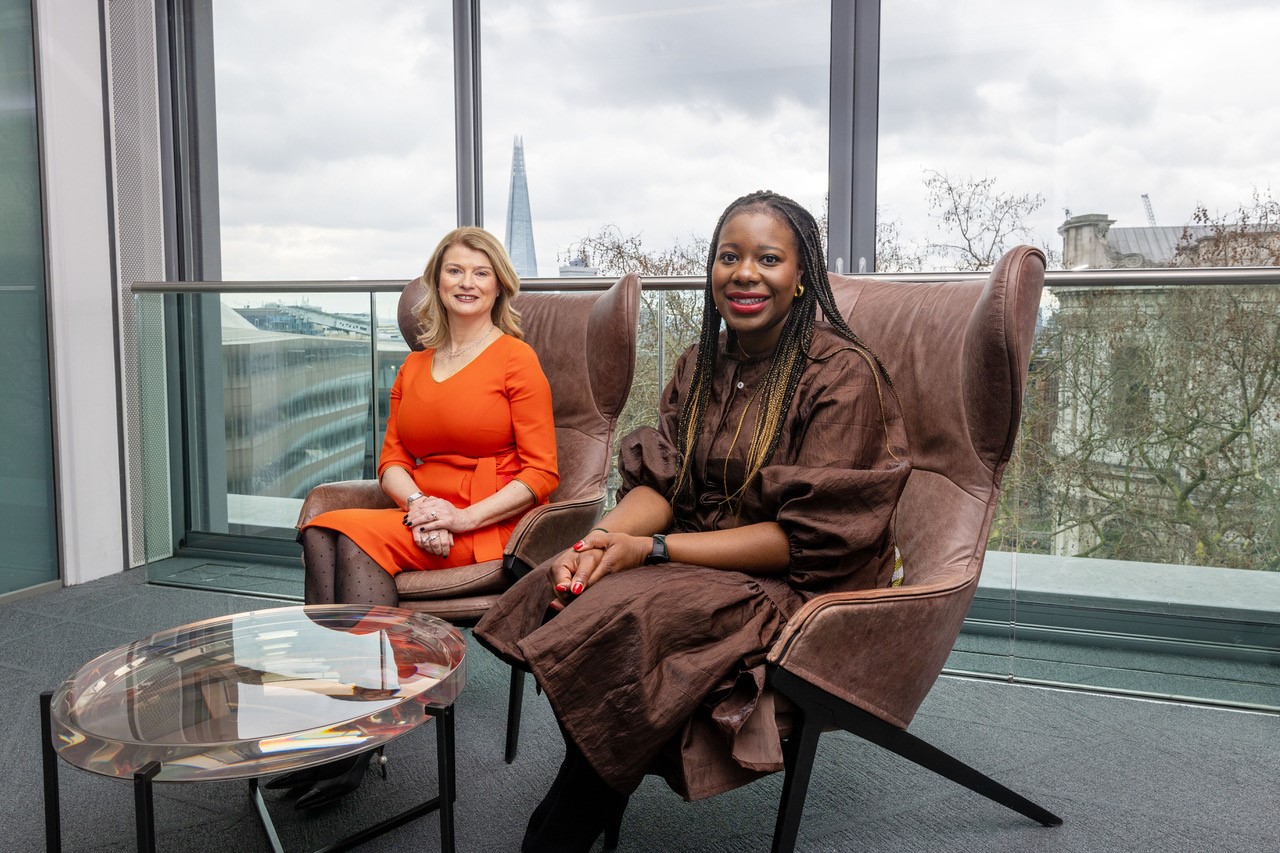 Pictured (L-R): Sharon Daly, partner and Head of Matheson's London office and Nana Darko, Director and Legal Counsel, BlackRock at Matheson's London office.
To celebrate International Women's Day 2023, today colleagues from across our offices came together for a virtual event exploring equity and its impact.
We were honoured to have Nana Darko, Director and Legal Counsel, BlackRock, join the Head of Matheson's London office, Sharon Daly, for an insightful discussion based on this year's theme, #EmbraceEquity.
Sharon Daly, Head of Matheson's London office commented:
"As a firm, we are constantly working to #EmbraceEquity and to enhance the career experience of our women colleagues. It's wonderful that as a firm, our work to keep D&I at the forefront of our business, including through the work of our Impactful Business Programme initiatives, has delivered such strong results over the past few years. Of course, our work is not completed and there is still so much more we are striving to achieve. It is inspiring to be working with such a strong team of colleagues throughout the firm who are committed to keeping equity and inclusion at the heart of everything we do; together we will continue to deliver further changes for the benefit of our colleagues, our clients and our communities."
Commenting, Nana Darko, Director and Legal Counsel, BlackRock, said:
"Equity means not only creating a space where diversity is valued, but also nurturing an inclusive setting in which women can thrive. This goes beyond simply providing opportunities and greater access in the workplace; it's about supporting women to succeed and empowering them reach their full potential when they take those opportunities. It also starts with showing children and students the range of pathways and what's possible through education, and ensuring that there is female representation in leadership roles to inspire and mentor the next generation."
International Women's Day is marked annually on 8 March and is a day when we come together to celebrate the achievements of women around the world and stand together to promote equality and equity. Matheson is committed to delivering an inclusive culture and one where we empower all of our colleagues to thrive. Our efforts are having an impact and are being independently recognised by our peers. We are the first and only organisation in Ireland to have been reaccredited by the Irish Centre for Diversity with their 'Investors in Diversity' Gold Standard. Our sector leading approach to diversity and inclusion saw us named 'Diversity and Inclusion Law Firm of the Year' for the second year running at the Irish Law Awards 2022. Matheson is committed to achieving greater representation of women in the partnership and better gender balance in leadership roles. Last year, Matheson's female / male partner gender ratio was ranked as the most diverse in Ireland and the third most gender diverse in Europe.
A recording of the event is available on the Matheson Knowledge Hub. If you would like to see the recording, please contact our Knowledge Hub Team.
Read more about our Impactful Business Programme initiatives.