Leading Irish law firm Matheson, in association with Trinity College Dublin (TCD), has announced second year TCD law student, Brendan Giurgila, as the winner of the 2022 Cara Scholarship.
Delivered as part of Matheson's Impactful Business Programme, and named in honour of late partner Cara O'Hagan, the annual scholarship is open to second year undergraduate law students in TCD, including students on the Higher Education Access Route or the Disability Access Route to Education schemes, mature students and students who face barriers in third level education.
As winner of the Cara Scholarship, Brendan is awarded the following by Matheson:
a place on Matheson's Summer Internship Programme in June 2023;
a bursary of €5,000 for each academic year; and
an assigned mentor from Matheson to provide support during Brendan's university journey.
Commenting on the scholarship award, Michael Jackson, Managing Partner of Matheson said:
"On behalf of Matheson, I would like to congratulate Brendan on this achievement and we look forward to supporting him in his studies. The Cara Scholarship, established in memory of late partner, Cara O'Hagan, seeks to invest back in the community by supporting students to become the leaders of the future and continues our commitment to proactively promote equal opportunity witihin the legal profession. Through Matheson's Impactful Business Programme, we keep diversity, equity, and inclusion at the core of our business and we are proud to partner with Trinity College Dublin to create more opportunities and a meaningful, sustainable impact beyond our firm."
Winner of the Cara Scholarship, Brendan Giurgila, said:
"At the start of this year, I had hoped that I would be able to simply get through another year. As a fully independent student, I had harsh responsibilities that constantly dragged me away from my academic objectives and pursuing my dreams of having a career in law. Matheson not only acknowledged my dreams for my career in law but also offered a high level of support for it through the Cara Scholarship. I am humbled and grateful for everything Matheson has done for me, and I fully intend to show them that their trust and generosity has and will continue to fuel my dreams."
Professor Caoimhín MacMaoláin, Head of the School of Law, Trinity College Dublin, commented:
"Trinity College Law School are delighted for Brendan. He is a most deserved recipient of the Matheson Cara Scholarship. This partnership between Matheson and TCD is a really wonderful initiative, promoting diversity and inclusion in legal practice and rewarding great talent and endeavour. It provides a fantastic opportunity for an exceptional law student at a crucial stage in his academic and professional development."
The Cara Scholarship is just one of Matheson's many Impactful Business Programme (IBP) initiatives, which are delivered strategically across four key pillars comprising diversity and inclusion, the arts, environmental sustainability and corporate social responsibility, and supplemented by the firm's pro bono and employee wellbeing activities.
The scholarship also builds on Matheson's existing graduate and intern programmes, including the Tim Scanlon Corporate Law Bursary, the Summer Internship Programme, and the Matheson Career First Programme. To find out more about Matheson's student programmes, please visit the Student and Graduate Careers hub.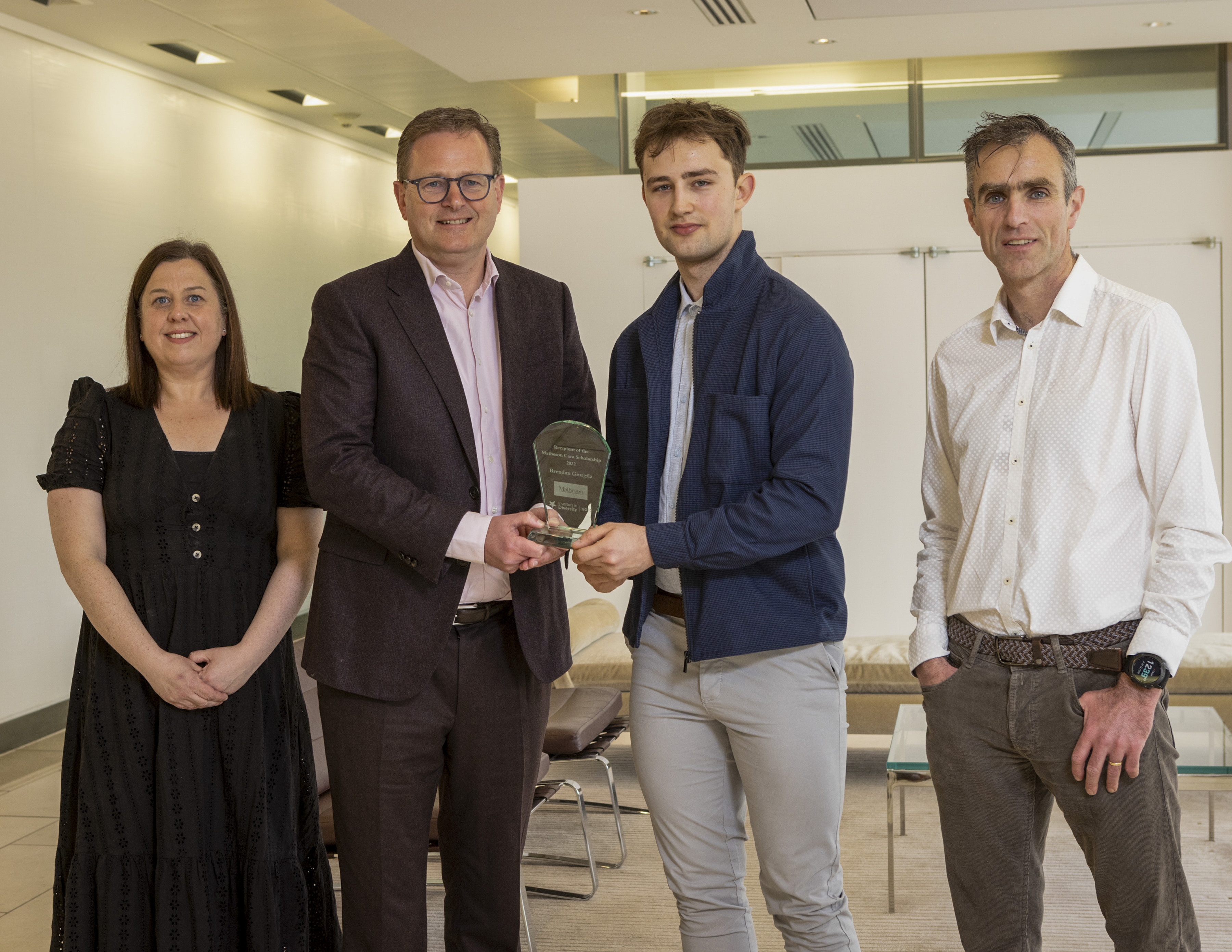 Pictured (L-R): Nicola White, Director of Learning and Development, Matheson; Brendan Giurgila, Cara Scholarship recipient; Michael Jackson, Managing Partner, Matheson; and Professor Caoimhín MacMaoláin, Head of the School of Law, Trinity College Dublin.