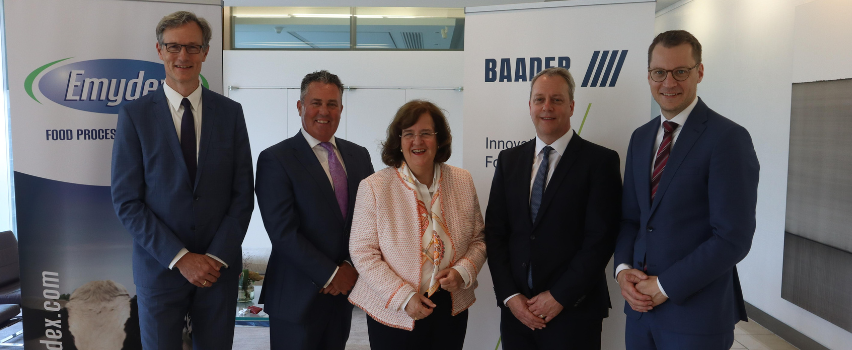 Pictured l-r: BAADER digitalisation CEO Dr Norbert Engberg, Emydex CEO David McMcahon, Baader Global CEO Petra Baader, Emydex CTO James Grennan and Baader chief corporate secretary Dr Nils Grenda.
Matheson LLP is pleased to have advised BAADER, a globally renowned manufacturer and supplier of food processing machinery and solutions in relation to its acquisition of a majority stake in Emydex Technology, an Irish-headquartered international leader in the provision of scalable Manufacturing Execution System (MES) software for the food processing sector.
This new development marks a significant milestone for both BAADER and EMYDEX with the acquisition of EMYDEX being BAADER's first acquisition of an Irish business as BAADER moves to integrate its digitalization division across all food processing sectors, delivering innovative EMYDEX MES solutions to customers in the red meat and poultry industries. BAADER has more than 100 years of experience in the food processing industry and employs 1,600 people across 100 countries and 30 subsidiaries.
Our Corporate M&A team led by partners Robert Maloney Derham and Brian McCloskey, associate Andrew Fullen, solicitor Niamh Hanbidge and trainee Elaine Hayden advised BAADER on the acquisition.
Robert Maloney Derham, partner in the firm's corporate M&A team commented: "We are delighted to have advised BAADER on their first M&A transaction in Ireland, which further enhances their digitalisation offering across all food processing sectors. Working alongside the BAADER team, advising a globally renowned player in their industry sector is consistent with our strategy of being the Law Firm of choice for internationally focused companies doing business in and from Ireland."
As one of Ireland's leading law firms, Matheson has some of the most experienced corporate lawyers in Ireland. Matheson's corporate department has unrivalled experience in advising international private equity clients across all industry sectors, making the firm uniquely positioned to partner with clients to successfully deliver these types of transactions. The Corporate team consists of 37 partners and over 120 lawyers, and has more Corporate M&A lawyers ranked by both Chambers & Partners and The Legal500 than any other Irish law firm.
--ends--