Trainee Lawyer Programme
Our trainee lawyer programme is the best in Ireland. Our commitment to our trainees is to provide them with the training and opportunities they require to become successful lawyers. Our programme is designed to help you make the transition from student to qualified lawyer and to provide you with the knowledge, skills and expertise that our clients demand.
As a trainee lawyer in Matheson, you will have the opportunity to develop your expertise working alongside some of Ireland's leading lawyers.
In order for you to fully appreciate the depth and breadth of our client base, and so that you can gain as broad an experience as possible, you will complete rotations in four different departments during your two-year training programme. You will be directly involved in choosing these rotations.
What makes our approach to training unique is the focus we bring to developing your skills. Our comprehensive approach ensures that you develop the right skills through a combination of in-office partner and associate mentoring, project work, formal training sessions and regular feedback.
Application Process

Our Trainee Lawyer Programme is now closed for applications.

High academic and personal achievements
Candidates who fit well with the firm's values and culture
A clear level of understanding of what is required to work in a commercial law firm
Evidence of teamwork and taking responsibility
Evidence of self-motivation with the right attitude, drive and ambition
Benefits of working at Matheson
We are committed to investing more in the training and development of our people than any other Irish law firm.
We offer:
A competitive salary and bonus scheme
23 days holidays per annum
Experience working in our practice areas with four rotations during your apprenticeship
Continuous training and education focused on developing legal, personal and client care skills
PPCI and PPCII fees paid
On-site gym
Subsidised restaurant and Starbucks coffee dock
Tax saver schemes (eg, Bike to Work and Travel schemes)
Sharing an office with a partner or associate, providing you with invaluable learning opportunities
Overseas and secondment opportunities as part of your future career
Annual trainee weekend away
Volunteering opportunities with Matheson Foundation charities
Firm trainee pension contribution of up to 3%
Business casual dress code
Developing your Expertise
You will be working with the firm's clients from the moment you begin your first rotation. You will be involved in some of the biggest cases and commercial transactions in Ireland in an exciting, deadline-driven environment.
In order for you to fully appreciate the depth and breadth of our client base, and so that you can gain as wide a range of experience as possible, you will complete rotations in four different departments during your time as a trainee. You will be directly involved in choosing these rotations
Throughout your time as a trainee you will receive continuous support from your colleagues. The partner or associate that you share an office with will be a rich source of practical advice. The firm's solicitors are always available to answer questions and help in any way they can. You will have a real opportunity to continue to learn outside the structures of the training programme.
As you grow and develop as a trainee lawyer with Matheson, your training and development grows with you.
We provide:
Dedicated legal education programmes to assist you with your continuous professional development
A highly successful mentoring programme designed to develop your legal skills and expertise
Personal development training to help you to develop your drafting and presentation skills
Focused client care training in order to provide you with the information, knowledge and skills required to have a successful career with Matheson.
At Matheson, we are committed to fostering a diverse and inclusive workplace and to embedding diversity, inclusion and innovation into everything we do.
To further strengthen our innovative recruiting initiatives for diverse graduate talent, we are pleased to introduce the Watson Glaser critical-thinking online assessment into our recruitment process. The Watson Glaser assessment represents an innovative approach in the objective selection of our future lawyers.
The Watson Glaser assessment has been designed to recognise candidates who have a solution focussed approach and will be able to adapt to the needs of our clients. The assessment questions will focus on your ability to draw inferences, recognise assumptions, make deductions, interpret information and evaluate arguments.
Click here to complete a sample Watson Glaser assessment.
If you have any questions regarding our application process, please do not hesitate to contact our graduate talent and development team directly.
Meet April McClements | Partner | Former Trainee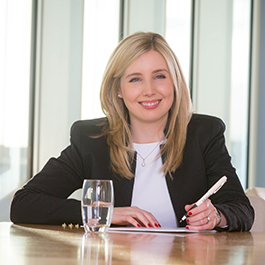 I was lucky in that I knew from very early on that I wanted to study law. I chose UCD because as well as being an excellent law school, it was renowned for its exchange programme at that time and I was keen to spend a year abroad. I studied law in UCD (BCL International) and spent a year as part of my degree in Osgoode Hall Law School in Toronto.
As a trainee, it was very exciting to work on high-profile cases with top-class clients and to get to observe lawyers who are at the top of their field in action. You are very much a part of the team and become completely immersed in the particular case or transaction.
There is a very strong support network in the firm. At all levels of the firm, there is a huge focus on training and development. As a trainee, you are really given the opportunity to realise your full potential and to become equipped with every skill required to make the transition from trainee to solicitor and ultimately to partner. There is also huge support at an informal level and the team spirit of the firm is very much evident, people are always willing to answer questions and help out, no matter how busy they are. There is also a very strong focus on mentoring in the firm, and as a trainee and as a solicitor, I was fortunate to work very closely with and to learn directly from partners and associates who were leading lawyers in their fields and personally invested a lot of time in my training.
It was a fantastic sense of achievement and pride to become a partner in Matheson having trained in the firm. I grew up with the firm to a certain extent and Matheson has really invested in my career and personal development. There is a strong focus in the firm on not only training our trainees to be excellent lawyers but looking past qualification and developing the partners of the future.
Having had the experience of training in Matheson, I can really relate to our trainees and understand the importance of this stage of their career. Having come up through the firm and worked with partners who were fantastic mentors and invested their time in me, mentoring junior members of the team and assisting them in their personal development is really important to me.
The investment that I have made in my career by choosing the right course and law firm, the investment that the firm has made in the development of my career since the day I joined as a trainee and the mentors that I had along the way, have allowed me to develop the key skills required to become a partner and have got me to where I am today. It is very important to me to make this same investment in trainees who join the firm and help them to reach their full career potential.
| | | | |
| --- | --- | --- | --- |
| University | Event | Date | Time |
| DCU | DCU Virtual Recruitment Fair | Tuesday, 28 September | 12:00 pm - 4:00 pm |
| TUD | Business, IT, Law & Languages' Virtual Careers Fair 2021 | Monday, 4 October | 11:00 am - 3:00 pm |
| NUIG | Graduate Virtual Jobs Fair | Tuesday, 5 October | 11:00 am - 4:00 pm |
| TCD | Law+ Fair | Tuesday, 5 October | 11:00 am - 2:00 pm |
| UCC | Virtual Recruitment Fair | Wednesday, 6 October | 11:00 am - 4:00 pm |
| UCD | Law Fair | Thursday, 7 October | 1:00 pm - 4:00 pm |
| UL | Graduate Careers Fair 2021 | Thursday, 7 October | 11:30 am - 3:30 pm |
| MU | MU Law Fair | Friday, 8 October | 11:00 am - 3:00 pm |
| MU | 2021 Placement and Internship Virtual Fair | Wednesday, 13 October | 11:00 am - 3:00 pm |
| Legal Cheek | Virtual Irish Law Fair 2021 | Thursday, 21 October | 2:00 pm - 5:00 pm |